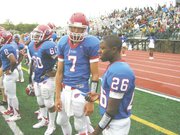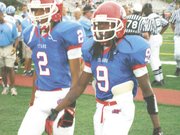 As his team trudged off the field following another disappointing loss — this time a 36-7 defeat courtesy of Centreville last Friday night — T.C. Williams coach Dennis Randolph couldn't help but think about the forlorn faces heading towards the locker room.
Coupled with a heartbreaking 23-20 overtime loss against Mount Vernon to begin the season, the defeat to Centreville had Randolph's team hanging by a thread emotionally. He had listened to the frustration coming from some of the team's leaders, who could be heard yelling at each other over missed assignments.
With the Titans pointing fingers at one another, the happy opening of the team's new stadium just one week earlier seemed like a long time ago.
"Right now we have a confidence problem," Randolph said of the situation. "We beat ourselves in two games. Centreville and Mount Vernon are good, I'm not taking anything away from them, but I think we should have won both games. I'm not doing a real good job of getting them to play together."
What the team doesn't seem to realize is that the solution is within its grasps. In their two losses this season, the Titans have combined a half of quality football with a half of mediocre football.
Against Mount Vernon in week one, Randolph's squad came out flat in the first half, falling behind 10-0 only to make a spirited comeback after halftime to force overtime. With Centreville, the scene was flipped, with T.C. Williams standing tough against the Wildcats in the first half, trailing by just seven points at halftime. Junior Cortez Taylor could have tied the game in the second quarter for the Titans had it not been for a costly penalty that brought back a punt return touchdown.
But then the T.C. Williams' offense stalled on its first possession and the defense promptly gave up a long touchdown drive to start the third quarter. The sequence culminated in Centreville junior Warren Denny's leaping touchdown grab off a Titan cornerback's helmet — a catch reminiscent of the NFL's David Tyree in last February's Super Bowl.
WHILE THE WILDCATS celebrated, the Titans sideline was quiet, with much of the first-half optimism wiped away. T.C. Williams never did recover from the emotional letdown of allowing that touchdown, giving a blocked punt recovered for another Centreville touchdown just minutes later.
"These are young kids," Randolph said. "It's just one of those things, momentum shifted and our kids got down a little bit. We got to correct that. We can't keep doing that."
It doesn't help that senior running back Abu Kamara, who scored two touchdowns to lead the Titans' comeback effort against Mount Vernon, was in a sling for the Centreville game and will be out for at least another week after suffering a bruised collar bone in practice.
And senior Dominique Copeland, who was expected to be one of the more explosive players in the northern region this year, has had trouble getting involved offensively.
This summer, Randolph installed a new spread offense based off the scheme used by Auburn offensive coordinator, Tony Franklin. Randolph said it would favor a team like his that has plenty of skill position players, but lacks size on the offensive line. It was a bold move for someone like Randolph, who has had success in other systems at previous stops coaching Edison and South County.
So far it has had mixed results. The Titans certainly have big-play capabilities as evidenced by the 65-yard bomb caught by junior wide receiver Mark Grosser to close out the first half against Centreville. But the explosiveness comes in spurts as the team continues to digest the new scheme, making first downs sporadic at best.
The pieces are all there for the Titans. The first two weeks have shown the team hasn't quite figured out where they go yet.
It's all part of a learning process that won't get easier this week, as T.C. Williams gets a third chance to win its first home game in more than four years against state title contender Oakton.