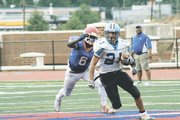 Entering the 2007 football season, Centreville's Justin Conway was supposed to have a breakout season. A running back, Conway was expected to shoulder the offensive load in the Wildcats' run-oriented attack.
However, after some "ball-control issues," according to Centreville coach Gerry Pannoni, Conway's playing time dissipated and he soon found himself behind bruising fullback Andrew Morgan.
But Morgan graduated after last year's 6-5 season, which ended with a 30-27 loss to West Springfield in the Northern Region Div. 6 quarterfinals, leaving Conway the opportunity for redemption — a theme that would be echoed last Friday with a 36-7 win over T.C. Williams.
"Last year, Justin was a guy that we thought might have a big year," Pannoni said. "He didn't really do much of anything, but he continued to work hard all offseason and so far has done a great job."
In many ways, Conway's resurgence has epitomized his team's resurgence from Week 1. Trailing 28-7 against West Potomac on Aug. 5, the Wildcats (1-1) responded by scoring a pair of touchdowns that nearly tied the score.
Then this week, a week Conway himself titled "redemption week," the 5-foot-10, 175-pounder rushed for 193 yards against T.C. Williams, with 66 of them coming on a touchdown run late in the third quarter to put the game out of reach.
"I just saw an opening and I exploded through it," said Conway, who rushed for a touchdown and caught a touchdown pass in the West Potomac loss. "I thought they were going to catch me, but I 'high knee'd' it and got a touchdown."
<b>CONWAY'S OFFENSIVE LINE</b>, anchored by stalwarts Luke Bowanko (Virginia), Mike Upham, Holland Anderson and David Wisda, should also be credited for Conway's success, though it's a severely different style than those four were used to last season.
Conway isn't a hulking back like Morgan. At nearly 250 pounds, Morgan had no problem bulldozing an outside linebacker. But Conway, like several other of Centreville's talented skill players, bases his game off of speed.
"Morgan was a big, strong kid who could run over you," Pannoni said. "Justin would rather step around or step by you."
Conway is joined by other talented skill players like junior quarterback Cam Walter and junior wide receiver Warren Denny, who's also an accomplished basketball player at the school.
In the third quarter, after Centreville had built a 14-7 lead on a David Toth touchdown run and a touchdown reception from junior wide receiver David DeLorimier, Denny decided it was time to show his athleticism.
In the back of the end zone, as if it were a rebound, Denny timed his jump perfectly and hauled in Walter's pass for the score.
"Coach [Pannoni] calls a lot of those plays … maybe it's because I'm tall," said Denny, who's 6-foot-2. "I just happened to come up with a lucky catch."
In the game, Walter threw for 108 yards and two touchdowns on 9-of-16 passing, while Denny, who also recovered a blocked punt for a score, caught two passes for 45 yards, including his 35-yard leaping grab.
Conway is still the elder statesmen on a team relatively short on experience, but rebounding from a Week 1 loss certainly bodes well for any team's confidence.
"It's definitely a hard-working group," said Pannoni, whose team will travel to Lee on Friday. "They're young, they're still making mistakes and hopefully we can fix that throughout the season."