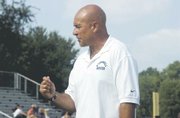 For some, a milestone victory is viewed with admiration and reverence over what has been accomplished.
But for Bishop O'Connell girl's soccer coach, Alberto Starace, who won his 500th game as a coach last Wednesday by defeating Flint Hill, 2-1, it's a reminder of just how much time it takes to win that many games. For that reason, he's tried to put his achievements in perspective.
"It's a great accomplishment, but it shows my age and how long I've been coaching for," Starace said of his 500th win. "I've had some great players over the years and a coach is as good as his players."
Starace has been the girl's team head coach since 1985. During that time he has won one National Championship, 10 WCAC Tournament Championships and 15 WCAC Regular Season Championships. His teams have been ranked in the nation's top 25 at some point during each of the past 15 seasons. Eight of those teams finished the season ranked in the top 25.
In addition, since 1990 Starace has coached six players that have been named Washington Post Player of the Year and four All-Americans. He has coached over 30 girls that went on to play at the Division 1 level in college and more than 80 others that went on to play in college at the Division 2 and 3 levels.
But Starace's career in coaching did not get off to such a smooth start. In 1980, Starace had an interview at Madison High for the boy's head coaching position. However, an exam he was taking at George Mason took longer than anticipated, making him late for the interview. His only option at that point was to take an assistant coach position for $400 or become the girl's junior varsity head coach for $800. Needing money, the decision was easy.
After experiencing success on the JV level for three seasons, Madison named Starace the head coach of the varsity team.
In 1985, the position at Bishop O'Connell became available. Since O'Connell's soccer season is in the fall and Madison's is in the spring, Starace was able to coach at both schools until 1990. At that point the coaching profession began to change, a lot more attention was needed in the off-season and Bishop O'Connell offered him a position as a faculty member.
This season, the O'Connell girls look poised for another strong run in the WCAC. The team faces a tough stretch scheduling-wise to begin the season, but Starace expects his team to be right in the thick of the conference race yet again.
"Everyone is in the same boat, it all depends on who stays healthy and who is peaking at the right time," Starace said.