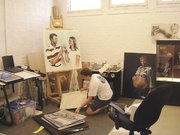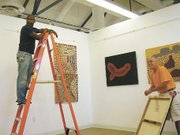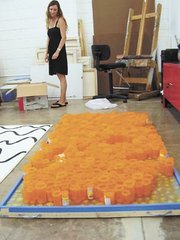 Right now, the grounds at the old Lorton Prison site, the soon to be newly minted Workhouse Arts Center resembles a college campus in early September.
Slowly, one by one, new residents have begun to trickle into the 10 buildings that formerly housed the prisoners of the D.C prison. Now refurbished into halls upon halls of individual compartmentalized white rooms, next door neighbors are introducing themselves, before surveying their new space and unpacking.
All of the new arrivals are artists. All have had their work vetted by 100 jurors from around the country schooled in almost every form of the arts. Their rooms will function as an office, workspace, gallery and classroom, depending on what they have scheduled for the week. Side by side, dorms that used to house convicted criminals are now filling up with local, regional and nationally recognized artists, waiting for visitors to pass by and enter.
At the grand opening Sept.19, when thousands of Fairfax County residents fill the quad, entering and exiting the buildings, the atmosphere will be more like a carnival.
"A festival," corrected Tina Leone, CEO of the Lorton Arts Foundation in an interview less than two weeks out from the ribbon-cutting ceremony.
LEONE, HIRED in 2002 to shepherd the Workhouse Arts Center from the realm of ideas into brick-and-mortar reality, confessed to feeling the full spectrum of nerves as nearly four years of work is set to finally bear fruit.
"It's a roller coaster right now of emotions. It's excitement. It's fear. It's stress. It's happiness. It's everything," she said. "The moment you think you have something covered and ready, something else comes up."
Executive Arts Director Sharon Mason put it more bluntly.
"We've been standing on the rooftop and wondering how far we can jump," said Mason with a laugh.
The latest mini-dramas are the logistics of moving all of the artists in and dealing with the effects of Hurricane Hanna, which Mason said flooded seven of the 10 buildings that will comprise phase one of the Workhouse Arts Center. Though no permanent damage was done to the buildings or the art inside them, it proved to be an unwelcome distraction during an already hectic week.
The center was designed to simultaneously function on multiple levels. A gallery, museum, school, theater, dormitory and art store all within the same compound on Ox Road in Lorton. The weeklong ceremonies starting Sept. 19 will serve to give residents of Fairfax County and beyond their first peek at what Leone has in the past described as "a world-class arts center in your backyard."
Artists representing almost every discipline of creativity have signed multi-year leases to display their art on center grounds, each committing 100 hours a month to working in their individual rooms during center hours. Some have opted to teach classes or offer workshops for the general public, blurring the lines between exhibition and education, artist and viewer.
Pedja Muzijevic, concert pianist and director of music programming at the Baryshnikov Arts Center in New York City, will perform a concert of short pieces, roughly an hour in length on the Sept. 19. Joining him will be violinist Jessica Lee and French horn player Eric Ruske. The idea was to provide an abbreviated version of Muzijevic's Big Apple performance, making it more accessible to audiences with busy lifestyles.
"We are certainly hoping to make this into a series of concerts, kind of an ongoing thing," he said. "The goal is to try to make the Workhouse Arts Center a stop in people's lives where they go to see something or do something."
Ron Acker, curator of the Grand Opening Aboriginal Art Exhibit and director of Gallery Sydney-East at the Workhouse Arts Center, said he was anxious to see what locals thought of the collection of authentic Aboriginal paintings he would be displaying.
"The thing that I will find very interesting is what the reception will be for clients based here on the East Coast with a very, very abstract presentation," said Acker, calling the Australian-based style "an existential and cosmological concept."
All the pieces, collected from Aboriginal art communities across the Australian Outback, are available to admire and, if the mood strikes, to purchase. Acker's lease with the Workhouse is for three years, but he said that he would strongly consider the maximum five-year lease offered by the center to applicant artists. He praised the potential for the enterprise.
"I think that the Workhouse is going to be the cultural jewel of Northern Virginia in a short period of time," said Acker.
PHOTOGRAHER AND author Bob L. Knudsen will be signing copies of his book "A Living Treasure", a collection of over 300 photographs depicting the grounds of Arlington National Cemetery, captured in every season of the year. Knudsen, son of former White House photographer Robert L. Knudsen, had total access to the historic landmark, but said the photos in the book were all places open to the visiting public. He said visitors were missing out by relying on tour guides and maps to show them the beauty of the cemetery grounds.
"I hear the tourists or kids who come to visit; they say 'wow look' and run off to one direction, and the tour guide would say 'you can't go down there, we have to go here,'" said Knudsen. "They're missing the whole point of Arlington [National Cemetery]."
In addition to his book, Knudsen will be displaying a collection of sports memorabilia from Ironclad Authentics, a collection of presidential photographs shot by his father spanning from the Eisenhower administration to the Nixon administration and a North America exhibit featuring pictures from Canada to the Caribbean.
Knudsen, who has an office in Annandale, said the Workhouse Arts Center represented a fantastic opportunity for local artists.
"When the Lorton Arts Foundation came around, it was almost a perfect fit, only 2 miles from my home," he said.
Once the grand opening comes to a conclusion and phase one is up and running, Leone and Mason said they will catch their breath before continuing to work on the future of the center, which will eventually add a performance theater, a museum wing and 40 live-in residences for artists.
"We might have the next great artist that comes right out of our community because they got inspired here," said Leone.
"We're not naïve about it. Artists thrive in an area where they are nurtured and inspired," said Mason. "We hope that's what the Workhouse Arts Center will be for them."