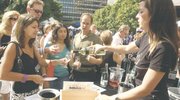 <b>VINTAGE CRYSTAL,</b> Crystal City's outdoor wine and jazz festival, is back for a second year. Last year's inaugural festival drew 5,000 people to sample wine and food from around the world and to listen to jazz music from the Duke Ellington Jazz Festival. This year's Vintage Crystal event features 24 restaurants and food tents. The Arlington Connection spoke with Angie Fox, the director of the Crystal City BID, a group that promotes Crystal City businesses and is organizing the event, to talk about wine, Crystal City and all that jazz.
<p><b>What's going to be happening at the event?</b>
<p>It's similar to last year's event but bigger. [Last year] we did not close the roads and this year we're closing Crystal Drive. We have 30 different wines from around the world. They're broken into four major areas. We have Italian Alley, which will feature the Italian wines and the Italian restaurants. We have American Avenue, which will feature the Stone Mountain Vineyard, a Virginia vineyard. We also have California. We have Mediterranean Way, which is sort of the Lebanese and Spanish. Then we have Latin Lane, which goes through Argentina and Chile. One of the pieces that will be the highlight of the Latin Lane is Jaleo will be doing their giant paella. That will give people a taste of their upcoming paella festival. Then we have the Duke Ellington Jazz Festival providing music. It's nice, light music while people sip. We have Virginia Tobacco Company, which will be selling cigars. Some people like red wine and cigars.
<p><b>It sounds like a really relaxing event.</b>
<p>We're psyched. Last year we had a lot more people than we were initially expecting. This year we made sure there's only two wines per tent and plenty of pourers. That should really make the lines move quickly. Also, this year you'll come in and pay your $20 and get your ID checked and you'll get a Crystal City wine glass and then also a program guide. In that guide it lists all the white wines on one side and all the red wines on the other side with a description. And then you can check off that you tasted it and you can rate it with your own little description.
<p><b>Why wine? How does wine appeal to the residents of Crystal City?</b>
<p>It's not just residents of Crystal City. Wine is an interesting phenomenon. It's clearly been around for a very, very long time but people are really getting into wine. There's a new wine bar, Cork, in town. Jaleo has a new wine shop. There's a lot of focus on wine these days. People love wine festivals where you can be outside and sip. The opportunity to come to a wine festival and taste international wines and get great food and you can Metro, it's very appealing. We saw that last year. We were expecting about 1,000 people and we had 5,000 people. People are really looking for a way to be outside and sip and taste. It has a little bit of an elegance to it, in a way, but also a nice kind of jazzy appeal.
<p><b>Does wine go well with jazz?</b>
<p>I certainly think so. It's a very nice ambiance.
<p><b>What's your favorite kind of wine?</b>
<p>I am a big red wine drinker. My favorite red wine is red zin. I like the really bold, fruity kind but the kind that can stand well on their own or go well with food. I can also handle a nice cigar with a good red wine on rare occasions.
<p><b>What's the most expensive wine you've ever tasted?</b>
<p>Well, a wine that I really like to drink, I would say is mid-range. If I find it on a menu I'll order it. It's usually $45 and up. It's a Helen Turley zin. That's my favorite.
<p><b>What should people going to this event look forward to?</b>
<p>I think they can look forward to a beautiful space and an easy event. You don't have to get in a bus or figure out how to drive. It's easy, it's low cost at $20 for food and sips and it's a nice afternoon. Beautiful space, great art, fun music. It's just a very relaxed way to experience Crystal City.