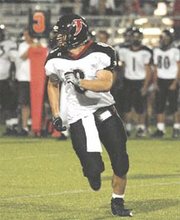 Both the Wakefield and Madison High football teams entered last Friday night's non-district contest in Vienna searching for their first wins.
For the home team Warhawks of Madison, being in such a winless predicament at 0-2, even if it was still early in the season, was highly unusual for a team that has known numerous winning seasons under current coach Gordon Leib. But Madison's setbacks had come to two playoff-bound teams in Oakton and Yorktown.
Wakefield, on the other hand, has struggled for years to become a winning team. The Warriors enter almost all of their games as underdogs. Even so, the team's capable coach, Keith Powell, is well respected for his football wherewithal. The Arlington team's supporters realize they have a solid commodity in the former Hampton High football lineman and that he and his coaching staff will get the most out of the program.
But the Warriors, who entered Friday's game with losses to non-Northern Region opponent Broad Run and non-district foe Hayfield, made far too many mistakes against Madison. Despite showing glimpses of its potential behind skill position standouts Andre Allen and Johnathan Ford, who both split time between the quarterback and slot position running back/receiver positions, the smaller in roster size Wakefield team was unable to stay with Madison, which ran off to a 33-8 win.
"This is a game where you just can't make mistakes against a good program," said Powell, the Wakefield coach whose squad hurt itself with nine penalties, four turnovers and several failed punt attempts as a result of Madison's special team linemen busting through the middle, impending Warrior punter Rodrick Likonko's attempts to boot the ball away. "I understand Madison might be down right now, but Madison is still a good team. We're definitely making progress. The issue now is we're only playing well in spurts."
One of Wakefield's biggest plays, a 60-yard post pattern hook-up from Allen to Ford in the first quarter, was nullified by a penalty. So instead of having the ball deep in Madison territory, Wakefield, trailing 7-0 at the time, lost the chance to gain some much-needed momentum. The Warriors ended up failing to get off a successful punt and Madison went on to move the ball 24 yards in five plays to score its second touchdown for a 14-0 lead.
<b>THE WARHAWKS</b> controlled things from there as they led 19-0 at halftime and eventually 33-0 in the fourth quarter. Wakefield scored its only touchdown with eight seconds left in the game on a five-yard pass play from Allen to Ford. The Warriors' ensuing two-point extra point play, in which Ford, under pressure, tossed an underhand aerial towards his left to teammate Romeo Goffney, resulted in the game's final points.
BUT OVERALL it was Madison's night. The Warhawks rushed the ball 43 times for 262 yards. Leading the ground game were running backs Sasha Vandalov (15 carries, 125 yards, 2 TDs) and Trevon Walker (14 carries, 93 yards, 1 TD). Vandalov, a junior ran for a 44-yard score for the game's first touchdown and, early in the fourth quarter, caught a 48-yard touchdown pass from Madison quarterback Will Clarkson to make the score 26-0.
"Our running game was definitely the result of our [offensive] line," said Vandalov, crediting the players in the trenches for his rushing success in the win. "I can only give credit to the line."
The Madison back said being 0-2 was a burden to his team.
"It was really tough going into this game without any wins," said Vandalov. "We were so pumped up for this game. Now we have momentum for the district."
Leib, the Madison coach, credited his defense with leading the Warhawks. Wakefield did accumulate close to 250 yards on offense, but only found the end zone once.
"I think our defense played well," said Leib. "Wakefield has some real good skill [position] kids and are faster than us."
Madison's defense got interceptions from Tyler Wilkinsen, Ben Powers and Matt Moore. Also, linebacker Ryan McGuire made a sack in the end zone to account for a two-point safety in the second quarter. On the special team's side of play, Madison kicker James Devens nailed a 41 yard field goal and converted three extra point kicks.
Meanwhile, for Wakefield, Bruce Milam and Isaiah Cruz both had fumble recoveries in the loss.
This Friday night, Wakefield will host Falls Church in its National District opener. Madison, meanwhile, will travel to Reston to take on South Lakes in both teams' Liberty District opener.