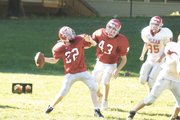 It has been a tough start to the season for the McLean High football team, which fell to 0-3 following last Friday night's 36-19 loss to visiting W.T. Woodson.
The Highlanders, under first year coach Jim Patrick, have losses to Annandale, Stuart and now the Cavaliers. But Patrick and his new team will be back out this Friday night and giving it their all again when the Highlanders host Washington-Lee. The Generals from Arlington will enter the non-district game with a 1-2 record. W-L opened the season with a win over non-Northern Region opponent Dominion High before losing to region foes Chantilly and Fairfax.
In the game against Woodson last week, McLean got onto the scoreboard first, thanks to a 16-yard scoring run from Riley Beiro which made the score 6-0 in the first quarter. Woodson, however, answered with two opening quarter touchdowns to surge ahead 16-6.
McLean got back into the game in the second quarter when quarterback Will Hecht hooked up with senior wide receiver Jordan Samuels for a 26-yard scoring pass to get McLean within 16-13. The Cavaliers scored the game's next two touchdowns, however, to make the score 30-13.
McLean's final score came in the third quarter on a 65 yard touchdown run by Beiro, who finished the game with 120 rushing yards on 13 carries. Teammate Mike Shipley ran the ball eight times for 52 yards. Hecht, at quarterback completed 11 of 27 passes for 155 yards. Samuels caught five balls for 109 yards.
<b>THE MARSHALL HIGH STATESMEN</b> suffered a 63-0 Liberty District home loss to defending state AAA champion Stone Bridge last Friday night.
Marshall is now 1-2 on the season. The Statesmen opened the season with a win over Hayfield before falling to Fairfax two weeks ago. Stone Bridge is rolling over everyone thus far with decisive wins over West Springfield, Robinson and now Marshall. The Bulldogs will play at non-Northern Region opponent Loudoun Valley this Friday night. Marshall, meanwhile, will travel to district opponent Langley.
Stone Bridge, which defeated the Statesmen in a first round Div. 5 region playoff game last year in Ashburn, led Friday's game 14-0 after one quarter before exploding for five second quarter touchdowns to go up 49-0 at the half. Stone Bridge quarterback Patrick Thompson (12-of-17, 249 yards) threw for four touchdown passes and ran for another score. Catching TD tosses for Stone Bridge were Zach Thompson, Marcus Harris, John Bladel and Nick Sheehan. Harris also ran for a score. Defensively, Stone Bridge had interception returns for scores from Bladel and Kyle Gouveia.