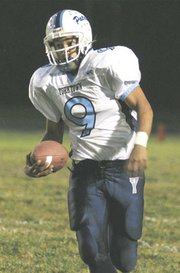 There's always a certain amount of risk involved when a high school football coach decides to play his best players both ways — on offense and defense — over the course of a game.
In Yorktown's first defeat of the season, a 51-27 loss to West Potomac last Friday night, the Patriots and coach Bruce Hanson learned that lesson the hard way thanks to a high-flying offense that refused to take its foot off the pedal offensively.
With many of the skill position players for Yorktown (2-1) only resting when the team was on special teams, there was little time to catch one's breath as West Potomac employs a pass-heavy spread offense that rarely huddles before snaps.
"On a night like tonight, with all that passing, to turn around and play running back and quarterback is kind of hard," Hanson said of his team's predicament. "They were on the field too long. (West Potomac) had nice drives with their short passing attack."
The Wolverines came into the game with one of the area's most prolific offensive attacks through two games and they didn't disappoint on this night. West Potomac (3-0) racked up 545 yards of total offense, led by senior quarterback Cole Walter, who completed a remarkable 31 of his 42 pass attempts for 329 yards and four touchdowns.
The Patriots defense had no answer for an attack that spread the ball evenly amongst all its receivers. Four Wolverine receivers finished with at least four catches, including six for 124 yards and two touchdowns from senior Kristian Rodriguez. Senior Will Rosenkrantz added 10 catches for 84 yards and a touchdown.
And aside from senior Kyle Toulouse —who once again showed his multi-dimensional skills, finishing with 154 yards and two touchdowns on the ground, a touchdown reception to end the first half, and an interception on defense that set up another score — the undermanned Patriots just could not keep up.
"We feel like we're one of the best-conditioned teams in the northern region because we wanna go as fast as possible," West Potomac coach Erin Henderson said. "We feel like we get big plays because some people aren't necessarily ready for that tempo."
That being said, the Wolverines were the team on their heels as the game began. Yorktown marched down the field on its opening possession of the game, which was capped off by a 10-yard Toulouse touchdown run to give the Patriots a 7-0 lead. On the ensuing drive, West Potomac quickly drove down the field with intermediate passes — a sign of things to come — before Yorktown defensive back Colin McConville intercepted a Walter pass in the end zone.
"I was, 'Wooah, we're in trouble' at the beginning," Henderson said. "We couldn't seem to slow down that offense … But then we responded."
The Wolverines partially blocked a Yorktown punt, giving them prime field position and precious momentum. West Potomac went on to score 23 consecutive points before Toulouse caught a 44-yard Hail Mary from junior quarterback Sam Nottingham to end the first half.
On the Patriots' first play from scrimmage after halftime, junior fullback Charles Banks fumbled and West Potomac took advantage immediately, as Wolverine junior Edward Johnson broke free for a 43-yard touchdown run, essentially sealing Yorktown's fate.
"You just can't beat good teams when you give them that many opportunities," Hanson said.
The game also served as the first game back from a two-game suspension for running back Jared Smith. The senior had a 23-yard touchdown run in the second half, but couldn't seem to consistently break through the inside of the West Potomac defense. He finished with just 21 yards rushing, a stat that irked Hanson.
"We knew coming down to West Potomac was going to be tough," Hanson said. "I knew it was going to take an extreme effort to win the game. … But we weren't planning on going 10-0. We'll get better. That's for sure."