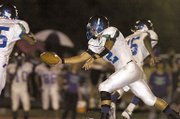 The last thing the South Lakes High football team needed was an 0-3 win-loss record going into this week's start of the Liberty District schedule. Following losses to non-Northern Region opponent Heritage High (Leesburg) and cross-town rival Herndon to begin the season, the Seahawks realized they were facing a must-win scenario for their week three, non-district game at Falls Church last Friday night. Indeed, South Lakes, playing with a fierce sense of determination, outplayed the Jaguars on way to an impressive 35-12 victory.
"It's big," said South Lakes coach John Ellenberger, of the Seahawks' first `W' of 2008. "It was very important to get that win going into Liberty District play."
With the relief of a win under its belt, South Lakes is a more confident team going into this Friday night's district opener against visiting Madison High of Vienna.
"We play Madison this week and they're always tough," said Ellenberger.
The Warhawks were one of the better Div. 5 teams in the region last year, winning a first round region playoff game against South Lakes before falling to Edison. But the Warhawks, who were 9-3 in 2007, are a younger squad this season. Like South Lakes, Madison lost its first two games of the current season, falling to Oakton and Yorktown, before righting the ship with a 33-8 home win over Wakefield last week.
Madison, in the win over the Warriors, had a big game from running back Sasha Vandalov, who rushed for 125 yards on 15 carries with a touchdown. He also caught a scoring pass from quarterback Will Clarkson.
<b>SOUTH LAKES</b>, a pass-oriented team last year when they had perhaps the region's top wideout receiver in AJ Price, is focused on running the football more this season. Ellenberger said the Seahawks are geared more for that style of play this season because of the talent they have at the running back position.
"We've got some very good running backs, probably the most skilled since I've been here," said Ellenberger, who has been part of the South Lakes football program the past 12 years. "And our [offensive] line is coming together. The kids are finally starting to pick up our new [running style] offense."
South Lakes will need to have success running the ball against Madison, which proved to be a little vulnerable to the run against a Wakefield team that rushed for 126 yards on 24 carries last week.
The Seahawks, against Madison, will be without talented sophomore fullback Ja'Juan Jones, who sprained a shoulder in the Falls Church game and is expected to miss two to four weeks. South Lakes, following the injury to Jones, received a huge lift against Falls Church from senior running back Will Johnson. Filling in for Jones at fullback, Johnson had one of the better games ever by a South Lakes runner, rushing the ball for 255 yards on 19 carries and a touchdown.
Ellenberger said Johnson has proven to be quite a versatile player for South Lakes, having seen action at fullback, wide receiver and a slot running back position on offense this season, as well as at cornerback on defense.
"He just does whatever we ask," said Ellenberger, of Johnson. "Will is a tough, physical kid and can run. We put him back there, gave him the ball and he did a tremendous job."
<b>ANOTHER BIG GAME</b> from the running back position came from senior back Brandon Price (10 carries, 48 yards), who ran for three, short-yardage touchdowns. Ellenberger also credited backs John Stewart and Bralynn Harris with having excellent blocking games out of the backfield.
"We controlled the ball, didn't throw interceptions and our offensive line did a nice job for us," said Ellenberger, summing up the offensive success against Falls Church.
South Lakes got a score from its special teams when sophomore Darius Smith returned a kickoff 65 yards for a touchdown.
Defensively in the win, the Seahawks came up with a huge goal line stand in the third quarter after Falls Church positioned itself to score with a first down at the one yard line. But in four plays, the Jaguars could not cross the goal line.
South Lakes, in the win, built up a 14-0 halftime lead and was ahead 21-6 after three quarters. For the game, the Seahawks accumulated 340 rushing yards.