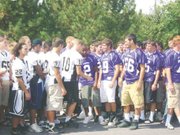 With 32 of a combined 44 starters lost to graduation, it'd be easy to assume that Friday's football game, which features area-powerhouse Westfield (3-0) at area-powerhouse Chantilly (3-0), might lack some of its typical luster.
But, as anyone who's even a tad familiar with this rivalry knows, nothing comes easy when these two titans meet. Not even a parking space.
"[The rivalry] is well-established in the youth leagues, so you don't have to work on getting them integrated in it," said Chantilly coach Mike Lalli, whose Chargers finished 8-3 last season. "They already have it when they're in sixth grade."
Parking will be sparse at Chantilly High School on Friday night, as two of the top football teams in Northern Virginia clash. Here's a brief look at the rivalry:
<b>IN LAST YEAR'S MATCHUP</b>, a game Westfield won, 28-16, more than 8,000 fans flocked to Westfield High School. With the white-clad Charger fans opposing the "Blacked Out" Bulldog faithful, Westfield silenced those in white with a 17-play drive to pull away in the second half.
Last year's win for Westfield avenged what Chantilly did to the Bulldogs in 2006. In the Northern Region final, Chantilly quarterback Austin Decker, subbing for then-starter Nate Worek, ran for a touchdown with 14 seconds left to give the Chargers the win.
"The rivalry was already there, but that win took it up like two notches," said Chantilly senior Isaac Sine, who'll line up at both linebacker and along the offensive line Friday night. "Before it wasn't really expected that we would be that much of a threat to them, but after that regional championship, we were looking for them and they were looking for us."
Westfield used last season's Week 4 victory as merely a step on its journey to perfection. The Bulldogs logged the first 15-0 season in Virginia high school history and won their second state title in the past five years.
Chantilly, on the other hand, regrouped to win its next four games but eventually stumbled, 19-6, at home against Centreville on the final Friday of the regular season. The Chargers were eliminated by Robinson in the first round of the Northern Region playoffs.
Chantilly graduated seven starters on both offense and defense but boast one of the area's top running backs in senior Torrian Pace. In a 31-20 win over Annandale last Friday, Pace ran wild with 218 yards and two touchdowns.
After two solid but not spectacular offensive performances, the Westfield offense erupted in a Week 3 dismantling of Hayfield. Behind senior running back Jordan Anderson's 171-yard, three-touchdown performance, the Bulldogs notched six rushing touchdowns and walked away with an easy 48-7 win.
<b>AS A TESTAMENT</b> to this ever-developing rivalry, this year's matchup has even spilled over into the classroom. At the Chick-fil-A located at 4412 Chantilly Place — 3.35 miles from Chantilly and 1.42 miles from Westfield -- the DECA programs from each school will compete to see who can accumulate the most money in receipt values at the restaurant.
To participate, fans have been and will continue to place their receipt in the school box of their choice, and at the end of the week the receipts will be totaled, with a $1,000 check awarded to the winning group of marketing students.
"You can definitely sense the rivalry," said Chantilly sports marketing teacher Jenni Piotrowski, who's one of four teachers at the two schools to develop the Chick-fil-A program. Interestingly enough, Piotrowski started her teaching career at Westfield in 2002 but switched to Chantilly earlier this month — a move that could be construed as treason in some cultures.
"Each school is very proud of their history of winning within their football teams," Piotrowski said, "and the school spirit at each school is just top notch."
To start the challenge, players, cheerleaders, fans and parents ate at Chick-Fil-A on Saturday, Sept. 13. As of Tuesday afternoon Chantilly was leading by $1,000, but as this rivalry has shown, it's never really over until it's over.
"I think it'll be exciting," said Westfield coach Tom Verbanic, "Both teams feel like it's a big game and a rivalry game, but yet it's not the end of your season one way or the other."