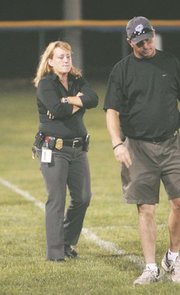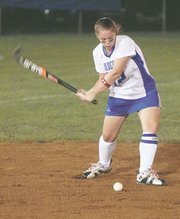 Time is of the essence when trying to juggle a full time job as an Alexandria City detective with the more work than advertised position of a varsity field hockey coach.
That's why West Potomac coach Betty Sixsmith, in her 18th year coaching the Wolverine field hockey team, has needed to rely on her family more so than ever this season.
Prior to this year, Sixsmith, a former field hockey standout at Grovetown High and Longwood College, had always coached the team alongside her daughter, Erin, a West Potomac grad.
But after Erin moved to Atlanta with her fiancé and West Potomac's JV coach quit the day before tryouts this past summer, Sixsmith turned to the only option she could think of: her husband Jim, a basketball and baseball player during his days at Longwood.
"Actually, it was a culture shock when she said, 'You gotta help me do this team,' " Sixsmith said. "I said, 'I know absolutely nothing about field hockey and I'll help you out until you get somebody and we'll just do the best we can.' "
But with the Wolverines enjoying a successful season thus far — the team is 6-3 after Monday night's 1-0 victory over Wakefield — the muddled coaching situation has turned into a positive nobody saw coming.
"The girls love him," Betty said. "This team probably out of all my teams is a real group. They stick together, there's none of that girl animosity kind of stuff, and they really play as a team. It has been a pleasure this year."
Because of Sixsmith's job as a detective within the youth sex crimes division, she is sometimes forced to miss practices or leave games early when called into duty. That has left Jim in the uncomfortable position of coaching girls in a sport he knew next to nothing about a month ago.
Luckily, his years as a former athlete in high school and college have helped him.
"The game is a little different, but if you can get the girls to believe you're at least a competitor and you know what you're talking about, you don't have to know every single rule there is," Sixsmith said.
And the girls on the team have certainly bought into the unique situation. They all realize their new assistant coach has never played a game of field hockey in his life, but his learning curve has created a fun atmosphere that has translated well onto the field.
"He's really funny and a good coach, but I don't know if all the time he knows what he's talking about," senior Catherine Bradley said.
Added junior Rachel Browning, "She knows the skills and he knows the coaching of what to yell and what not to yell."
Jim Sixsmith is having so much fun, he just might be back as an assistant next year. He has one request, though. Don't tell his wife that.