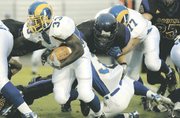 Robinson football coach Mark Bendorf doesn't like to use a single running back. It's not that he's against running the football — his team ran for 250-plus yards last Friday against West Springfield — but Bendorf typically likes two players to share that load.
Though the Rams suffered a 50-27 home loss, Bendorf's philosophy was on full display as seniors Alex Murray and Wynton Fox provided Robinson with another 1-2 punch in the backfield.
With nearly identical stat lines — Murray carried 15 times for 110 yards and a touchdown and Fox carried 14 times for 110 yards and a touchdown — these two have just been the latest installment for Bendorf.
"If you've followed us, or looked at our stats for maybe the last 10 years, we've always kind of gone with a committee in the backfield … at least since the mid-1990s," said Bendorf, who has compiled a 107-27 record in his 12-plus years at the school. "It keeps people fresh. It keeps our kids fresh and it keeps the defense off balance."
Early on it appeared as if Robinson would be locked into a shootout with the Spartans. After punting on its first drive, Robinson answered a West Springfield touchdown with one of its own — a 22-yard scoring strike from senior quarterback Timmy Meier to senior wideout Xavier Duncan.
Fox kept that drive alive with a key 10-yard run on third-and-nine, and the 5-foot-7, 170-pounder made even shorter work of Robinson's next drive as he broke free and scampered 70 yards for the score. With the touchdown, Robinson and West Springfield were deadlocked at 14.
Robinson conceded another Spartan touchdown, but the first of two game-changing plays was about to occur. Facing a third-and-six on his own 24, Meier dropped back and looked to throw to his right.
West Springfield linebacker Scott VanBuren jumped the route, grabbed the pass, and sprinted 24 yards untouched into the end zone.
<b>AT THE HALF</b>, West Springfield had built a 28-14 lead, but it was the first drive out of the break that finally broke the Rams. With West Springfield quarterback Bryn Renner facing a second-and-24 situation on his own 6-yard line, Renner, flushed from the pocket, escaped to pick up the first down.
"We had them in a very long situation where if we could force a punt, I presumed we'd get it at midfield," said Bendorf, whose team has started 1-2 this season. "I was feeling pretty good about what we were doing offensively and thought that we could bring that thing to 28-21."
Renner's run led to another West Springfield touchdown, and Robinson's run-oriented offense wasn't able to keep up. Still, not many can as the Spartans possess a prolific quick-strike offense.
Murray did all he could to both support the backfield tandem and provide Robinson with a second-half offensive threat. After bolting 48 yards to the West Springfield 6-yard line, Murray capped the drive with a 1-yard touchdown run.
That Robinson answered in the second half shouldn't come as a surprise. Bendorf, one of the area's veteran coaches, prides himself on his team's adjustments and its ability to improve, an assertion that Bendorf proved last
fall.
After a 5-5 regular season, including losses to both Chantilly and West Springfield, the Rams peaked at the perfect time and dealt the Chargers a 17-14 upset.
"We're very thorough in how we break the film down with our players and how we identify the areas that we have to get better in," said Bendorf, whose team will host Anacostia on Friday for homecoming. "That's what really served us well last year. We got better and better and at the end we were just a hair away from being in that regional final."
Though it's only three games into the season, Bendorf's team has made the adjustments and employs the two-back system that's standard for a Robinson team, which is pretty much right where Bendorf, who won Northern Region titles in 2001 and 2006, wants things to be.
"Our philosophy is to look at what we're doing and what we're doing well, and then look at our problem areas and try to improve," he said. "At this point in the season, it's who can get better and be playing their best at the end."