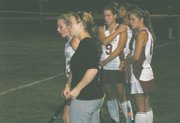 Coming from Harrisburg, Penn., first-year Mount Vernon field hockey coach Jess Hebel didn't really know much about her team heading into this season.
She wasn't sure what to expect from a Major team that went undefeated in the National District a year ago, but was returning just six seniors after losing several top players to graduation.
Hebel met with former coach Ellen McNair before the season to gauge what exactly she had inherited, but that just made matters worse. Hebel realized her system was slightly different from the previous regime, meaning her new players would have some adjustments to make on the fly during the beginning of the season.
Seven games later all those concerns seem to be a thing of the past, culminating in last Thursday's 1-0 victory over traditional power T.C. Williams that upped the team's record to 5-2 this season. It certainly hasn't taken long for Hebel and the Majors to quickly re-establish themselves as a force to be reckoned with in the northern region.
"I was actually pretty happy with their work ethic when I came in this season," Hebel said. "I coached another school before and it wasn't like that. …These girls work three times as hard as them, so I was happy with that because that's something you can't get girls to do."
Not only have the Majors worked hard, they've also shown a receptiveness to change. The players have embraced Hebel, who had previous experience coaching at Huntington College after her playing career was done there.
"They'll ask me before I even need to tell them, like, 'What can you tell me?'" Hebel said. "It's a really good feeling because I can feel successful in what I'm doing."
Added junior Leia Schantz, who scored Mount Vernon's lone goal last Thursday: "It's a different coach and a different way of coaching, so the two together have made us better, made us stronger as a team."
The Majors biggest strength may lie in their versatility. Hebel is not afraid to use several players at many different positions and it comes as no surprise when a midfielder comes back to help on defense or a defensive player jumps into the offense to provide a spark.
Such flexibility made the learning curve steep at first, but Hebel has seen steady progress, a sign she hopes will lead to a second-consecutive district title.
"The girls weren't quite there before the season, now everyone knows what they need to do to be successful," Hebel said.