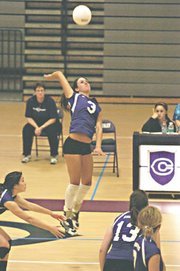 Everywhere the Chantilly volleyball team travels and that includes an afternoon pep rally — it seems that others have made a habit of trying to upstage them.
With Centreville and Westfield clogging the Concorde District, Chantilly has continued to crash the party and did so last season by finishing second in the district, second in the Northern Region and advancing to the Virginia AAA state tournament.
But closer to home, the Chargers (6-0) are forced to fight for fall sport relevancy in their own backyard with the field hockey team's defense of its own district title and, of course, that 3-0 football squad who'll take on some team called the Bulldogs on Friday night.
"I think because we're all so young we've been ignored, and this year everyone's like, 'Whoa. They might be good,'" said junior outside hitter Samantha Reeves. "I think this year people are starting to realize that we're going to be a threat."
Chantilly lost to Centreville, 3-0, in last year's Concorde District title game and later suffered a similar setback against Langley in the Northern Region final. It's expected for Centreville and Westfield to contend for the Concorde crown, but apparently someone forgot to tell Chantilly.
<b>IF THE CHARGERS</b> are to make a successful dent in the recent Concorde trend, they'll do so with perhaps the district's youngest roster. After last fall's state tournament experience, all but two players return from that 17-6 team.
Without missing a beat, the Chargers have gotten off to a torrid start this fall. They opened with a 3-0 home win over state runner-up Langley, needing only the minimum three games to seal the win. After a 3-1 performance at a Labor Day weekend tournament, the girls returned home and quickly reeled off wins against Woodson, Madison and Lake Braddock.
But the Chargers' latest exhibition, which came courtesy of a 3-0 home rout (25-9, 25-17, 25-13) of Lee, may serve notice to the rest of the Concorde District and Northern Region that yes, once and for all, Chantilly is a force to be reckoned with.
Then again, maybe not.
"We've been in this position before," said eighth-year coach Charles Ezigbo. "We try to stay under the radar, and we try to be competitive in every match that we have in front of us."
Ezigbo's team started strong against the Lancers, as it received a dominant first-game performance from junior middle hitter Allison Williams, who totaled four kills during that span.
In Game 2, Chantilly — but more specifically Reeves — started off sluggish. With Chantilly holding a 9-8 lead, Reeves had just botched a pair of easy kill attempts, hitting them terribly long, and Ezigbo called a timeout to settle his finest hitter.
<b>IT'S ASSUMED</b> that Ezigbo provided the requisite coaching, but in Reeves' mind, very little was needed.
"After the two I hit out, I just said, 'That's not happening anymore. That's embarrassing,'" joked Reeves, who regrouped nicely to post a kill on the first play after the timeout and 12 total in the match. "The whole team turned it around."
Reeves carried her dominance into the final game. Her seven kills in Game 3 led to the Chargers' 16-9 lead, and Chantilly cruised the rest of the way.
The Chargers, who played host to T.C. Williams Wednesday night — a match that ended after The Connection went to press — start Concorde District play with Herndon on Sept. 25.
"We'll make it so we're not ignored this year," said junior middle hitter Allison Williams, who totaled eight kills against the Lancers. "We're just going to try to bring [Chantilly] back on the map."
Hopefully that map hangs in one of the classrooms on Chantilly's campus.