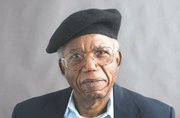 The 10th Annual Fall for the Book Festival will feature some very famous figures in the literary world who all happen to be living writers. The festival takes place Sunday, Sept. 21 through Friday, Sept. 26. The best part is that everything is free and open to the public.
"We're bringing the rock stars of writing to your back yard," said Art Taylor, marketing and programming coordinator. More than 100 authors will be appearing at venues both inside and out of George Mason University this year. "This year we've decided to expand our reach," said Taylor. "We've got 30 different venues in 12 cities in D.C., Maryland and Virginia."
Headlining this year is Chinua Achebe, author of "Things Fall Apart." This Nigerian author's book is the most widely read African novelist, with 8 million copies of his book published in 50 languages.
Pulitzer Prize winner Michael Cunningham, who wrote "The Hours," which was made into the movie, will also be in attendance. Sue Miller, an Oprah Book Club author, is another top draw.
Other participants include novelists Richard Bausch, Charles Baxter, Ethan Canin, Ron Carlson and Porter Shreve; Pulitzer Prize and National Book Award-winning poet C.K. Williams and more than a dozen other poets; memoirists including former Virginia Governor Linwood Holton, Scott Huler, and Honor Moore; and dozens of other writers across a variety of genres.
While many events will still take place at GMU, the schedule spans to 30 other locations — from a reading by children's book author Jerdine Nolan in Bowie, Md., to an appearance by poet Jon Pineda in Arlington, to a talk by novelist and legal scholar Garrett Epps in Sterling. And Fall for the Book continues its annual Middle School Reads and High School Reads programs in Loudoun County with young adult authors P.W. Catanese and Chris Crutcher, respectively.
To coincide with the bicentennial of Abraham Lincoln's birth, the festival will host a gathering of some of the country's most notable Lincoln historians for a full day of roundtable discussions on Tuesday, Sept. 23.
"The Abraham Lincoln Bicentennial Commission was formed not just to celebrate Lincoln the man but to explore the challenges that our country faced throughout our 16th president's tenure, to examine the ideals which he strived to embody, and to ask what type of model his principles and his actions offer to Americans in the 21st century," said Festival Director William Miller.
A morning session will feature biographer Daniel Mark Epstein, author of both "Lincoln and Whitman: Parallel Lives in Civil War Washington" and "The Lincolns: Portrait of a Marriage."
Three members of the advisory committee for the Abraham Lincoln Bicentennial Commission (www.lincolnbicentennial.gov) will headline the afternoon session. Michael Beschloss has written nine books on American presidents, including the bestseller "Presidential Courage: Brave Leaders and How They Changed America 1789-1989." Joshua Wolf Shenk is the author of "Lincoln's Melancholy: How Depression Challenged a President and Fueled His Greatness," and James L. Swanson wrote "Manhunt: The 12-Day Chase for Lincoln's Killer."
Each session will be moderated by presidential historian Richard Norton Smith, scholar-in-residence in George Mason University's School of Public Policy and Department of History and Art History. The day's programming is co-sponsored by Gale (Cengage Learning).
For a complete list of events and participants, go to: www.fallforthebook.org.