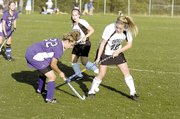 When Haili Hartman, a junior forward on the Centreville field hockey team, had a go-ahead goal disallowed against rival Chantilly last Friday, Wildcats coach Meghan Doran knew her team could take the disappointment one of two ways.
Though she didn't show it, she was also a little bit nervous.
But after a foul was committed and the play was blown dead — a preemptory and incorrect whistle, even admitted so by the official — Hartman's goal midway through the second half didn't count. It would've brought Centreville back from a 1-0 deficit.
"In the past, we have gotten frustrated after people scored against us or goals have been called back," Doran said. "But they kept working and answered back."
That answer came from junior forward Alex Peterson, who in her first year on varsity logged a memory that'll last a lifetime.
"The ball came from the right. I don't know who passed it. Katie Russell, she assisted, and I knocked it in," said a nervous and frantic Peterson. "It was pretty exciting because I got to be on the [school] intercom on Monday."
Peterson couldn't even hear the high school intercom when the backstory to this rivalry developed. Centreville (7-3-1, 1-1-1 Concorde) hasn't topped Chantilly since Sept. 23, 2004.
Or, more appropriately, when Peterson was in the seventh grade.
The Chargers, who won the Concorde District last season, had topped the Wildcats five straight times, and as if that's not enough, the Chargers have ended Centreville's season in the Concorde District quarterfinals for the past two years.
"This is the team that beat us in overtime, of the first round of districts the last two years in a row," said Doran, who's in her third season with the program. "We have a lot of respect for their coach, their program, and this is a team we've been trying to beat since I started coaching here."
<b>IF THERE'S ANY SOLACE</b> for Chantilly coach Ralph Chapman, it's the fact that at least he probably won't have to listen to his team talk about the loss. Talking, which normally doesn't present much of a challenge for your average high school girl, has been the primary trouble spot for Chapman's team this season.
The Chargers lost a substantial amount of talent from last year's squad, which lost in the Northern Region semifinals. Still, Chapman returns a relatively equal amount of talent but with a set of vocal chords that he's yet to hear.
"At halftime, I always give the kids a chance to talk, and [on Friday] they said, 'We could be communicating more,'" said the always colorful Chapman, whose team has a record of 7-4-1 overall, 0-2 in the Concorde District. "I lost it. I said, 'No kidding.' I said, 'You know what girls, you're driving us all crazy here.'"
Chapman attributes the team's communication breakdown to an intense concentration on what each player needs to do individually. However, he'd rather hear his girls alert a teammate or two as to where she plans to go next.
"They get so focused on what they're doing that they don't think ahead to alert the next person," said Chapman, whose team will play Jefferson on Thursday. "It's hard to imagine, but I'm always telling them to concentrate and think."
But for Centreville, talking came rather natural after one of the program's biggest wins.
"We haven't beaten Chantilly in like two years, and this is really gratifying," Peterson said, unaware of the actual date. "We don't let stuff like [the disallowed goal] make us play worse, we just play better and we came back and scored. We didn't let it get us down."