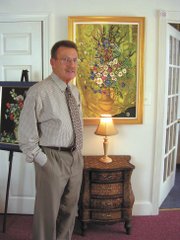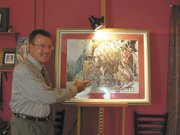 Far removed from what many consider the heart of the Alexandria arts community – the famed Torpedo Factory – sits the Von Brahler Gallery. The small private gallery, which is located on the northern tip of Old Town, is owned by Bob Murray, who specializes in bringing Russian art to the area.
Each month at the Von Brahler Gallery visitors can expect to find new pieces by Russian painters and sculptors in every medium and style. This coming fall alone, the gallery will exhibit shows from two well-regarded artists: Moscow-based oil painter Nikolai Antyuchin, who depicts primarily floral still-lives and architectural subjects, and Russian émigré Yuri Kokoyanin, who creates surreal, highly stylized figure sculptures and paintings.
<b>THOUGH THE VON BRAHLER GALLERY</b> has been in business in Alexandria for a quarter of a century, Murray came into the business in a somewhat roundabout way. In 1983 he was 10 years into a management career in the commercial airline industry when he met Karl Coch, a German impressionist painter looking for an American art dealer, on a routine business trip. Murray, who'd always been an arts enthusiast, decided to take the plunge and open a gallery to show Coch's work.
Fascinated by Russian art – which was difficult to find in the U.S. in the 1980s – Murray decided to make it his specialty. He has since become an expert in the field, earning a Masters degree from Georgetown University in Russian art history.
Since opening his gallery Murray has shown the work of dozens of Russian artists. Though he does occasionally bring artwork from overseas, he primarily deals with foreign-born artists working in the U.S. Surprisingly, the fall of the Soviet Union in 1989 was detrimental to Murray's efforts to import art, as it made transporting canvases between the two countries increasingly costly and difficult.
"During the Cold War, America had a good cultural agreement with the Soviets," Murray explained. "When the Soviets fell, the infrastructure they'd set-up fell as well."
Murray has maintained a strong relationship with the Russian community on a broader scale, participating in various events at the Russian embassy's cultural attaché – Russia House, in Washington D.C.
<b>MURRAY'S CONCERN</b> for the larger arts and business community has, since the start, included his colleagues in the Alexandria art gallery scene. In 1983 he founded the Association of Alexandria Art Galleries, which he oversaw until 1995. Members of the association visited each others' galleries every month to discuss business problems and to form a personal referral system for their collectors. The association, which, at one point included 45 galleries, disbanded shortly after Murray gave up management duties of the group.
Lois Boyles is co-owner of Studio Fine Arts gallery on North Washington St. She has known Murray for more than two decades and was involved in the Association of Alexandria Art Galleries. Boyles recognized the challenges Murray faced in attempting to form a cohesive group in Alexandria's gallery owners and admired his continuous efforts to do so.
"People have different ideas of what a community group like that should do," said Boyles. "Trying to do group publicity is difficult. It's hard to set up a program that satisfies everyone's needs."
Murray's is efforts to make the arts accessible continue. In 2007 he began working as the Site Coordinator and Artist Representative for the Old Guard Monument Project, which will be installed in the historic district at Fort Myer, Va. in the coming year. Murray coordinates all activities dealing with design and landscaping for the monument and ensures the sculptor's wishes are followed.
"In some regards, he saw this project from a different perspective than I did," said Jim Laufenburg, Executive Director of the project. "He had a much grander vision – I saw it as a military monument, while he saw it as a significant piece of history in the national capital region."
Murray's substantial efforts in this endeavor are unpaid.
The Von Brahler Gallery has been located on Powhatan St. since 2000, and since moving to the North Gateway neighborhood Murray has also thrown himself into taking part in the budding business community there. He speaks enthusiastically of the growing number of neighborhood restaurants and shops, and looks forward to the completion of the Potomac Yards Complex, which he hopes will give the area a significant economic boost. Murray truly lives by his belief that "the success of any small business is in integrating with the community."
More like this story