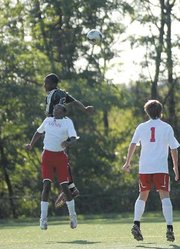 It certainly was peculiar to see somebody cheering for both teams in last Tuesday's soccer game between Alexandria rivals St. Stephen's & St. Agnes (SSASA) and Episcopal High School.
But Barbara Kalema-Musoke had good reason to be an ambiguous fan. She had a son on each team. Frederick Kajumba-Kalema, a senior midfielder for SSASA, and his brother, David Kagulu-Kalema, a junior defenseman on Episcopal, were facing off for the third time in their high school careers. And their mother made sure not to play favorites.
"I was supposed to come with two hats, put on the red one for St. Stephen's, put on the white one for Episcopal," said Barbara, whose family resides in Burke, but originally emigrated from Uganda. "I just want to see them have a good game. I don't care who wins at this point."
Leading up to Tuesday's match, the Kalema brothers had only been able to exchange trash talk over the phone since David is at Episcopal, a boarding school. But neither was certain they would see each other on the field since Frederick, who teammates call Freddy, starts for the Saints, while David usually comes off the bench for the Maroon.
Episcopal's roster features several talented out-of-state players that are likely to receive Division I soccer scholarships, while SSASA is a team of mostly Northern Region players.
But in a lucky twist of fate, Episcopal's usual starter at David's position was unable to play Tuesday due to injury, allowing David to start and play most of the game. And solely by coincidence, David and Frederick ended up marking each other for large portions of Episcopal's 4-1 win.
"We don't really talk on the field," said younger brother David, who has now beat his brother twice on the soccer field and once on the basketball court. "I guess they always get better and better and he always wants to prove me wrong."
Part of Frederick's desire stems from some friendly banter amongst his own teammates. He said even the coaches make sure he remembers that his younger brother has gotten the best of him so far.
"A lot of people hype it up," Frederick said. "It's fun, but at the same time I just want to get the win."
"We talk about how his parents like Episcopal more," St. Stephen's coach Bo Amato said with a laugh as he stood next to Frederick after the game. "We joke about it all the time so he's well wound up for the challenge."
Being so close in age, the Kalema brothers have been involved in various sporting events with each other for many years. Their mother thinks it's this close proximity in age that led the two on divergent paths when it came to picking a high school.
"They've always been close in age, so they've wanted their own identity," Barbara said. "So the young one decided to go to another school."
Adding to the brotherly rivalry is Frederick and David's youngest brother, George, a fourth grader at St. Stephen's. Sporting a Saints t-shirt during yesterday's game, George described himself as a Saints fanatic, leaving his Episcopal brethren in the dust.
And when asked who got the best in their individual matchup Tuesday, both Frederick and David responded the same way: "I did."
"It doesn't come up that much except when we're actually playing sports," David said. "And when it does, sometimes it might lead to an argument but it's always brotherly love. We have respect for each other."