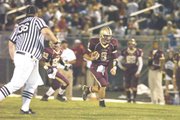 In its final tune-up to district play, the Broad Run High football team was dominant early and often in a 53-13 home win over Brentsville District last Friday night in Ashburn. With the win, the defending Dulles District champion Spartans improved to 3-0 going into this Friday night's district opener against visiting Briar Woods, also 3-0. Broad Run's wins thus far have come over Wakefield (Arlington), Ballou (Washington, D.C.) and now Brentsville (Nokesville), all weaker foes than most of the opponents the Spartans will take on in the weeks ahead.
One key to Broad Run's fast start has been the fact that Coach Mike Burnett's team has not looked past any of its opponents.
"For us, it's about execution," Burnett said. "It doesn't matter who we play. We're pretty blessed to have good athletes.
"I've never seen our kids not focus on the game [on-hand]," the coach said. "We love football. You have just 10 games, that's it."
<b>CERTAINLY, BOTH</b> Broad Run and Briar Woods will be fired up football teams, along with their supportive fans, when the two meet this Friday. The visiting Falcons, in just their fourth year as a program, are coming off a 2007 season in which they qualified for the Region II playoffs for the first time. Last Friday, Briar Woods, coached by Charlie Pierce, was an easy 57-3 winner over visiting Hedgesville High of West Virginia. This Friday will be a great early season contest.
"It's great for the community," Burnett said of the cross-town matchup between the two Ashburn schools. "That's what [high-school football] is all about. It's why Friday nights are so exciting."
Broad Run senior quarterback Tim Miscovich, who splits time behind the center with fellow senior QB Chris Jessop, said the Spartans simply need to keep their present mind-set of approaching each team it plays with respect.
"We've just got to keep playing and working hard each week," Miscovich, who completed five-of-nine passes for 92 yards and two touchdowns against Brentsville, said. "We can't look past any team. Briar Woods is a good match. They're a very good team with a lot of great players."
The signal caller looks forward to playing at home against the Falcons. The Spartans' student fans, known as the Maroon Crew, will be out in full force.
"It's awesome," Miscovich said. "I love the Maroon Crew."
Broad Run junior running back/defensive back David Weaver said following Friday's win that the Spartans need to have a good week of practice in preparation for Briar Woods.
"We're definitely going to have to bring the intensity and work hard in practice," Weaver, who caught a touchdown pass and scored another one on a recovery in the end zone against the Tigers last week, said. "Briar Woods is a good team."
Of last week's win, in which the Spartans built a 22-0 lead after one quarter before surging ahead 46-0 in the second quarter, Weaver said the Broad Run fans and overall Friday night atmosphere added to the night's luster.
"It was fun with the Maroon Crew and everyone coming out," Weaver said.
<b>ONE OF THE</b> game's most spectacular plays in the Brentsville win was Weaver's touchdown recovery midway through the first quarter. The touchdown was a result of a blocked punt by Spartan senior linebacker Mikey Cotton deep in Brentsville territory. Following the block, the ball bounced into the end zone where Weaver recovered for his team's second score of the game.
Another outstanding play for Broad Run came on the first play of the second quarter when Miscovich, a left-handed passer, rolled left before throwing long down the sideline and connecting with senior Breon Earl for a 39-yard scoring play. It was the first of four second-quarter touchdowns for Broad Run.
The Spartans' final TD of the quarter, a 5-yard run out of the shotgun by backup QB Ethan Miller, was set up by a 77-yard kickoff return by Earl, who picked up a bouncing kickoff at the 18 before running across field and then down the right side of the field.
One of Broad Run's most important players is senior kicker Allen Graham, who booted several kickoffs into the end zone last week. The left-footed kicker also sent a 38-yard field goal through the uprights in the second quarter to give his team a 32-0 lead. Graham's powerful leg could be a key factor against Briar Woods.