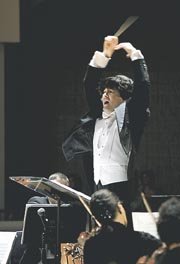 <i>The thing that influenced me most was the way Tommy (Dorsey) played his trombone…It was my idea to make my voice work in the same way as a trombone or violin, not sounding like them, but playing the voice like those instrumentalists.
— Frank Sinatra</i>
Every artist searches for his/her own "voice." Frank Sinatra "found his voice" in the strains of Tommy Dorsey's trombone playing. Instrumentalists and vocalists have influenced and inspired one another since music's beginnings.
This season the Alexandria Symphony Orchestra will celebrate symphonic music that is inspired by the voice---transcendent symphonic music that makes the orchestra "sing" and soar like a master vocalist.
Our season, entitled O' Passionate Voice, opens on Oct. 4 and 5 in a concert of popular lyrical masterpieces--with a twist. Each piece is a poignant vignette inspired by song--from "Greensleeves" to Massenet's "Meditation from Thaïs" to Haydn's stirring chorale set by Brahms. Fresh dance interpretations of Vaughan Williams Fantasia on a Theme of Thomas Tallis and Brahms' Piano Concerto #1 (Mvt 1) have been created by our concert partner, Bowen McCauley Dance. These choreographies are "symphonic" and soar with lyric intensity. The interplay between the dancers and the Alexandria Symphony Orchestra promises to be exhilarating and uplifting.
Our O' Passionate Voice theme continues throughout the season--from the romantic love duets of our Valentine's Day Concert, to Andrew Lloyd Webber's glorious Pie Jesu, to the soaring sax of Branford Marsalis.
Branford Marsalis will be performing the piece I wrote for him and the ASO. Its title not only embodies his ultra lyrical style, but also sums up the entire season, Vocalise. _The art and music we experience should inspire us to live out our lives with creativity and artfulness and to find our individual "voices." I hope our exploration this season inspires you to think about your own creative voice and to make it sing! See you at the concert!