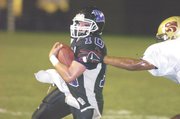 Three wins to start the football season is nice, but Potomac Falls High Coach Scott Woodlief said his team's true test is set to begin this week when the Panthers begin their demanding Dulles District schedule.
Potomac Falls (3-0), which opened the season with lopsided, nonregional wins over West Virginia schools Martinsburg, Hedgesville and Jefferson County before a scheduled bye last week, will be at home this Friday night against district foe Heritage of Leesburg.
"We've had a lot of plusses so far, but we have to keep the kids at a [even-keel] because we're 0-0 [in the district]," Woodlief said. "The next seven games are what it's all about and trying to win a district championship. That's what we instill in our kids."
During an early morning Tuesday practice session this week, the coach wanted to make sure his players had that type of mind-set. While the nondistrict wins were nice, especially considering that a year ago the Panthers started off 0-3, they are not as vital as the next seven games, all against district opponents.
But at the same time, Woodlief realizes that his team's three wins thus far have given the Panthers confidence going into the district schedule.
"The kids are excited about it," Woodlief said of his team's 3-0 record. "It gives us some momentum we can roll into the Heritage game with. It gives us great confidence. Last year at this time we were sitting at 0-3."
The coach did express some concern that his team's bye week might not have come around at the best time with the early season momentum going strong. Even so, he believes his team can shake off any cobwebs and come out clicking against a Heritage squad that is also 3-0.
<b>THE MOST IMPORTANT</b> thing in playing a good football game against the Pride of Heritage, Woodlief said, will be for his team to perform the basics of blocking and tackling.
"I think the big key is executing what you do on offense and defense," he said. "I think we need to stop their run. They spread it out and do good things on offense."
On defense, Heritage is a team that loves to attack the football, take some chances and give opposing offenses a variety of looks. It's not easy to get a read on the Pride's defense.
"They are a defense that runs around," Woodlief said.
Heritage, with its aggressive defensive prowess, will give the Panthers' offense a stiff test.
Potomac Falls has received stellar play from its offensive line, which has opened holes for senior running back Michael Baker, who has rushed for 387 yards and eight touchdowns thus far.
"Michael has been a major, major plus for us and a surprise," Woodlief said. "He's running the football very well and he's a leader on the team."
The coach said Baker does not have extraordinary speed, but he knows how to read blocks and find the holes.
"He runs to daylight," Woodlief said. "He has good vision. The offensive line is doing a great job in front of him."
Also having a fine season is Gregory Woodlief, the team's senior quarterback.
"Gregory's running our offense and executing the way we want," said Coach Woodlief of his son. "He's been [at QB] for three years and it's beginning to click for him."
The signal caller is both able to beat defenses with his passing as well as with his ability to turn the corner and run.
"He's a multidimensional threat guy," Coach Woodlief said. "He can run and throw the football. He can stay in the pocket or sprint outside on you."
Defensively, Coach Woodlief is real pleased with the way his linemen have played. The Panthers have been staunch against the run.
"The defensive line is playing their tail off, getting off the ball and causing havoc," Coach Woodlief said. "We're trying to put our mean guys up front."
The coach knows his team's ultimate success this season will depend on the line play, both on defense and offense.
"If you control the ball on offense and defense, you'll be in every football game," he said.