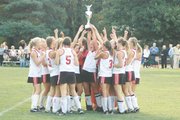 A year after suffering a losing season at 6-11, the Highlanders, following the setback to the talented Cavaliers last week followed by a tie game with Marshall, stood at 8-3-2 overall, a vast improvement from the '07 campaign.
"We've got good leadership and we've instilled a winning attitude," said McLean coach Summer Hardman. "They are working hard and not accepting defeat or less than 100 percent [effort] in practice. The girls are hungry to win."
While the setback at Liberty District Woodson was a stinger, with McLean falling 6-2, Hardman kept the game in perspective.
"We played a very, very good team," she said. "Woodson is an exceptional team. They were very offensive [minded] and had hard hitters."
In McLean's following game, the Highlanders played visitor and district rival Marshall to a 1-1 tie.
McLean's team is made up of seven seniors, six juniors, four sophomores and two freshmen. Hardman said one of the team's strengths is its overall depth. She uses her substitutes with frequency, which allows starters to stay rested.
The coach and her team members have high hopes of qualifying for this year's 16-team Northern Region tournament at season's end. The top four teams from each of the region's four districts qualify for the annual region tourney. Hardman said her team is confident it can get a taste of regionals this season.
"I think the girls definitely feel that way," she said. "The top four teams [from the district] are going to go."
Perhaps the season's highlight moment this fall came two weeks ago when McLean defeated district and cross-town rival Langley, 2-0, in a home game. The victory earned the Highlanders the right to take possession of the coveted Rotary Cup.
But McLean came back to earth a little bit with wins in just one of its next four games as it lost to Lake Braddock and Woodson, beat Mount Vernon and tied Marshall.
This week, McLean will be looking to get back into the win column with district road games at South Lakes on Wednesday and at Thomas Jefferson on Friday.
<b>MCLEAN</b> has received exceptional play at the midfield position where juniors Elisa Enriquez-Hesles, Caitlin Baker and Johanna Morrison have all played well. Enriquez-Hesles has done an excellent job controlling the ball and getting it to open teammates.
"She's one of those kids who is always on," said Hardman, of Enriquez-Hesles. "She always has a good game."
Morrison was one of her team's best players in a 2-1 loss to powerful Lake Braddock in a game at the Herndon Tournament on Sept. 20.
"She played an amazing defensive game," said Hardman, of Morrison's outing against the Bruins.
McLean's score in the setback to Braddock came from junior Casey Alexander. The Highlanders, in the tough defeat, scored first to go ahead 1-0 before Lake Braddock, a member of the Patriot District, came back to win and improve to 12-0 on the season.
Later that same day, McLean defeated Mount Vernon , 2-0, in another Herndon Tournament contest.