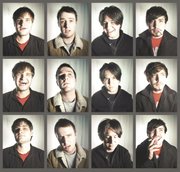 Chances are you've heard Middle Distance Runner. You just may not know it.
The Arlington-based band's catchy melodies have been featured on a trailer for the new Disney documentary "Morning Light," an HBO Signature Films Ad and, most recently, on the MTV Video Music Awards.
Next weekend local audiences will have a chance to hear those tunes live when the quintet performs its 100th show at Iota. They will perform songs from their upcoming album, tentatively titled "The Sun and Earth," and from their previous releases – 2006's "Plane in Flames" and the aptly named "EP."
Middle Distance Runner (MDR) is composed of Steve Kilroy (vocals/guitar), Allan Chappelear (guitar/keyboard), Erik Dean (drums), Jay Smith (guitar) and Tony Acampora (bass). The group has been writing, recording and performing together since 2005. Acampora is the newest addition to the group, replacing long-time bassist Ian Glinka, who relocated to Pittsburg just this summer. Acampora, who lives in Alexandria, is also a founding member of Greenland, another D.C. area band that often plays with MDR.
This weekend's show is the first Middle Distance Runner has played since January – excluding a weekend stint at South by Southwest in Austin, Texas last March. The group is excited to play new songs they've been fine-tuning for months. They are also gearing up for their other upcoming shows later this fall at the College Music Jam, a "music marathon" in New York City that features hundreds of established and up-and-coming acts.
MIDDLE DISTANCE RUNNER'S 2006 DEBUT was well-received by critics, and the group was selling out local venues throughout 2006 and 2007. In their July 2006 issue, Spin Magazine included one of the band's shows in their "101 Best Nights Out" review, which lists the top concerts to see across the country each month. Reviewers for the Washington Post, the City Paper and the blog DCist all identified the group as one of the most promising in the D.C. music scene.
MDR took full advantage of the exposure, touring up and down the eastern seaboard and rocking local stages to build a strong fan base. But despite their efforts, and the glowing reviews, the group was unable to get signed to a record label – a crucial step towards gaining wider recognition and airplay for a band.
The nine month hiatus MDR has taken from performing has given the group a chance to reassess their approach. They've spent the time experimenting musically and refining their sound.
"We realized we don't really answer to anybody," said Kilroy. "So we should do something we're all really proud of."
Describing the group's style is difficult, even for the band members.
"Our go-to answer is that we sound like Radiohead and Blur," said Chappelear. Indeed, the band lists the British rockers as major influences, and comparisons between the three are replete in MDR's reviews. But their sound has morphed into something very different with their new album.
This time around the band is using more live-recorded studio tracks, which, according to Kilroy produce a more "organic, human sound quality." And they've started playing around with R&B beats.
"We've been listening to a lot of Sam Cook and Rolling Stones," said Kilroy. "So there's a lot more soul and Americana influence."
For the members of the band, this willingness to try new things and respond to different influences is one of the most exciting aspects of playing together.
"One of the benefits to this band is that we don't have a defined sound," said Chappelear. "We didn't set out to make any one style of music, so we don't have to feel obligated to make Brit pop or something like that. We can make R&B songs, we can make thrash rock."
"The dynamics are different," agreed Acampora. "You can do so many different things, musically, with this band."
This sentiment was echoed by the group's manager, JD Klipper, who has worked with Middle Distance Runner since February of 2007.
"I always love getting new material from them," he said. "I really never know what to expect because each one of their songs has a different flavor. [It] makes marketing the material fun and interesting."
The diversity of the D.C. rock music scene has helped cultivate this sense of creative freedom for MDR.
"We have a group of bands that we're all friends with, but none of us really sound similar," said Chappelear. "I think it's helpful, because you can be influenced by people who sound totally different."
"Yeah, nobody has to fit in to anything," added Kilroy. "There are cities where bands can't do much, because nobody takes anything seriously there except for one style of music, but D.C.'s not like that. And I'm happy for it."
What seems to drive Middle Distance Runner, however, has as much to do with their affection for one another as their passion for the music they make. When asked to name their favorite thing about playing in the band, "friendship" was unanimously the first response. The band's founding members – Kilroy, Chappelear and Dean – have been playing music together since middle school, when they joined one of their teachers onstage at their eighth grade talent show. Even now, Kilroy and Chappelear share a rambling split-level on a quiet Arlington street with Smith.
Chatting with the group feels a bit like sitting in on a prolonged inside joke. They kid one another constantly, and actually, it's difficult not to laugh along. Perhaps this infectious energy is part of what's made Middle Distance Runner so appealing to area audiences. The band hopes to harness this power for their long-awaited return at Iota on Friday.