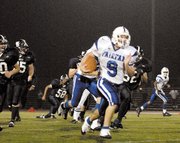 Last Friday's win by itself would've tasted sweet enough, but stir it together with all the necessary subplots and the Fairfax football team had a night to remember last week before it shifts to the Liberty District in 2009.
With a 25-15 win at Centreville, the Rebels won a Concorde District game for the first time ever, snapping a 19-game losing streak, and are now playing meaningful football during the second half of the season for the first time in nearly four years.
"Certainly, it was the biggest win that any of these guys have had during their high school football careers," said second-year coach Chris Haddock. "At the same time, it wasn't like we won on a fluke play. We had a couple breaks go our way, but maybe for the first time we worked hard enough to earn our breaks."
Friday's win, like many this season, was powered by a consistent running game. Senior running back Chris Regensburg ran for 205 yards and three touchdowns on 27 carries, including two fourth-quarter scores as the Rebels scored 13 unanswered points in the final period against the Wildcats (1-4, 0-2 Concorde).
Regensburg, who has emerged as one of the district's top offensive threats, brushed away any type of credit for the performance.
"To tell you the truth, it's pretty much all the offensive line," Regensburg said. "They're blocking so well. I think we have one of the top offensive lines in the district."
But as magical as that feeling on Friday was, Haddock had to yank his team down from the clouds on Monday afternoon. Prior to the team's practice, the coach called his still-giddy team together to put an end to a "nonchalant" effort, according to Regensburg.
<b>WITH A 3-2 RECORD</b> and a visit to Herndon (3-2, 1-1 Concorde) on the horizon, Haddock recognizes the opportunity that his team has — recording the program's first winning season since 2004.
"We can't look at this like our Super Bowl," Haddock said. "We've got other games that we think we can compete in, so we have to get focused right now on Herndon and work from there."
The increased focus has expanded beyond the coaching staff. Iogi Lewis, a senior running back who ran for 81 yards and a touchdown against Centreville, believes that the improved attitude and focus started this off-season in the weight room.
Furthermore, Lewis and his fellow seniors sat down with a few teammates who were on the fence about whether or not they wanted to play. Regardless of how it happened, Lewis and Co. have been delivering this season with remarkable consistency.
After Centreville kicked a field goal to take a 15-12 lead in the third quarter, Haddock's team rattled off a drive that consumed more than six minutes on the game clock and ended in the fourth quarter with Regensburg's 12-yard touchdown run, his first of the period.
"We had the ball in our hands and we were in the middle of a pretty good drive," Haddock said. "I just told them that we needed to finish our drive. We need to make sure that we finished and got the ball in the end zone."
According to Lewis, the players want to make sure of something else.
"We don't want anyone to say, 'Oh, Fairfax was just a fluke. That's just one win,'" Lewis said. "We want to continue winning, go into the postseason, and we want to keep up the mentality that we're a competitor."