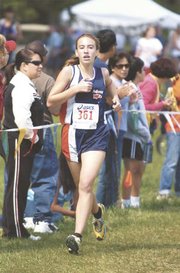 The Briar Woods High cross country program had plenty of reasons to be pleased in regards to its showings at the recent Oatlands Invitational meet in Leesburg, Sept. 20. Both the Falcons' girls and boys teams finished strongly in their respective team races, the girls finishing fifth overall in the 47-team varsity girls 'B' division and the boys garnering eighth among the 59 teams in the varsity boys 'B' race.
Freshmen boys' runner Connor Pompilio was 24th overall in the varsity boys' race and the first Falcons runner to cross the finish line of the 5K race. He was the first ninth-grader to complete the race.
"He did a real good job in the race," Briar Woods Coach Eric Callender said. "It's the first time he's run in a big race group in an invitational."
Three days earlier, Briar Woods had competed on the Oatlands course during a Dulles District competition versus Loudoun County and Freedom high schools. During that meet, Pompilio, running for the first time at Oatlands, had a difficult time finding the finish line. That is not an uncommon problem for first-time runners on the hilly, scenic course.
"He had no idea where the finish line was, but he learned from that race," Callender said.
Did he ever, as proven by his outstanding showing three days later.
Callender was pleased with the way both the boys and girls competed at the Oatlands extravaganza. The coach said team members had been working extremely hard at prior team workouts and he did not expect them to be at full strength physically for that Saturday's races.
"I was very happy," Callender said of the varsity team results at Oatlands. "Leading into that meet, we were in a harder series of workouts and hadn't been real rested for a big meet. So I think they did outstanding considering that."
<b>THE FALCONS</b>, in just their fourth year as a program, could have their best-ever showings at the upcoming Dulles District championships, set for Oct. 23, at Ida Lee in Leesburg. The top-four teams at districts, on both the boys' and girls' sides, will qualify for the Region II championships, Oct. 30, at Oatlands.
Two years ago, the Briar Woods girls qualified for regionals. Last year, both the boys and girls teams finished fifth at districts and did not make regionals.
"As teams, I know both the boys and girls are rooting for each other," Callender said. "As coaches, we want to see both teams get through [to regionals]."
But there is plenty of work for Briar Woods to do prior to the postseason. This Saturday, Briar Woods will compete at The Octoberfest, another big regular season meet. The event will take place at Great Meadows in The Plains. And a week later, on Oct. 11, the Falcons will participate in The Glory Days Invitational at Bull Run Park in Manassas.
Briar Woods' team captains on the girls' side this autumn are seniors Alex Burkle and Becca Ronk and junior Christine Edeline. Burkle has been injured this season and is yet to compete. Hopes are that she w ill be ready for districts.
The injury bug, meanwhile, has also hit Ronk. Her first competition came at the Oatlands meet.
The Falcons' top girls' runner thus far has been sophomore Giana Leone, who was eighth overall at Oatlands. Callender said Leone is among the top girls' runners in the district.
The Briar Woods boys' team captains are seniors Ben Rothacker and Nick Carmean and junior Andy Luhmann. The Falcon boys are made up of mostly juniors. Callender said the boys will have their work cut out for them at districts.
"Our entire district has really stepped up on the guys' side this year," he said.
Briar Woods' top-two boys runner this season are Pompilio, the freshman, and junior Zach Deaton, who was 34th overall at Oatlands. Pompilio, earlier this fall, was 10th at the Judge's Classic at Handley High in Winchester, Sept. 11.
On Thursday, Oct. 2, Briar Woods will get a nice test in a home dual competition versus district rival Potomac Falls.