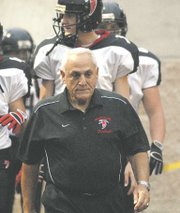 The Madison High football team did several things well in last Friday night's 42-15 Liberty District home win over Jefferson. The Warhawks, who improved to 3- 2 with the victory, played a solid all-around game.
"I think we played pretty good defense with the defense scoring twice," said Madison coach Gordon Leib. "We ran the ball and passed the ball effectively against a real good Jefferson team that's well coached."
Madison's defensive touchdowns came on a 25-yard fumble recovery return for a score from senior cornerback Kevin Ivey and an eight yard interception return by safety Matt Moore. Ivey's fumble return came in the second quarter and gave the Warhawks a 21-0 lead. The interception return by Moore came in the fourth quarter to cap the game's scoring.
Offensively, Madison utilized its play action passing game quite well. The team's success at running the football helped open up the play action pass, in which quarterback Will Clarkson would fake a handoff to a running back before setting back and throwing. The key to effective play action is getting the defense to believe the quarterback is going to hand the ball off to a runner. The Colonials were drawn to the fake handoffs, and therefore Clarkson had plenty of time to throw.
Clarkson did not throw often, completing just four-of-five passes for 70 yards, but two of the completions went for play action scores. The first TD pass, a 21-yard strike to Will Cybulski, came in the second quarter and gave the Warhawks a 14-0 lead. The second Madison touchdown pass play, a 25-yard aerial from Clarkson to tightend Kevin Sampson, came in the third quarter and built the Warhawks' lead to 35-0.
<b>MADISON'S</b> rushing attack was led by junior Sasha Vandalov, who ran for 95 yards on 15 carries and two touchdowns. He opened the game's scoring with a 30 yard run in the first quarter. A week ago in Madison's win at South Lakes, Vandalov rushed for 140 yards. Coach Leib said Vandalov has emerged into a playmaker for the Warhawks.
"Quite frankly, I could not have predicted that," said Leib, of Vandalov's breakthrough season. "It happened by performance. We have six running backs and all have a certain amount of potential. [Vandalov] came into the season as a fullback. Now he's a wingback."
A relatively young Madison team, since starting 0-2, has won games over Wakefield, South Lakes and now Jefferson.
"I think we're getting better each week," said Leib. "We're so young, but the kids are absolutely picking up things in practice and playing their positions."
The schedule gets tougher over the next several weeks for Madison, which will play at 3-2 Langley this Friday night. The Saxons, always known for their strong interior line play under head coach John Howerton, are coming off a lopsided 42-3 loss at Oakton last week.
"Langley's always big and physical," said Leib. "They always have a good running game. They'll be trying to pound us and we'll be trying to pound them."
Following Langley, Madison will travel to Woodson the following week before returning home against powerful Stone Bridge on Oct. 17.
<sh>Cougars, Statesmen
Win Decisively
<bt>Both Oakton and Marshall were football winners last Friday night. The Statesmen blanked host Stuart, 28-0, in a non-district affair, while the Cougars handled Langley, 42-3, also a non-district game.
For Marshall (2-3), it was the first win since its season opening victory over Hayfield. The Statesmen had lost games to Fairfax, Stone Bridge and Langley going into the Stuart contest. Coach J.T. Biddison's team will be looking to get to the .500 mark when it plays at home against Liberty District opponent McLean this Friday night. The Highlanders, under first year coach Jim Patrick, are 0-5.
Oakton, with its surprisingly easy win over Langley, improved its record to 5-0. The Cougars, under coach Joe Thompson, will meet perhaps its toughest opponent this Friday night when they host Concorde District rival Chantilly. The Chargers are coming off a 28-10 district win over Herndon.