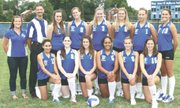 It was bittersweet for current O'Connell girl's volleyball coach Mike Barnett when he watched the Knights win the Virginia Independent State Championship, completing a 24-7 season in 2006.
Many of the returning varsity girls on that squad were coached by Casey, who had been at the helm of the O'Connell program for six years prior before leaving to coach at nearby Flint Hill for a season.
Now after taking a season off last year, Barnett is back at his familiar stomping grounds at O'Connell, but with a far less experienced team than that 2006 squad. But despite last Friday's loss to Episcopal (14-25, 26-28, 13-25) and a team with just five seniors, the Knights are off to a solid 6-5 start.
"Because we're so young, a lot of the focus has been on teaching," Barnett said. Certainly, we've been able to put some things together to get some wins, but a lot of focus is on getting the players up to speed."
Led this season by senior outside hitter Ali Koger, O'Connell is well on its way towards developing the foundation for another state run in the near future.
"We've really come together and our older players have really helped out our younger players and really coming together to make sure things work."
<b>Yorktown Captures Golf Title</b>
Led by junior Hunter Slade, the Yorktown golf team captured the National District title last week with a two-day score of 631, defeating second-place Falls Church by 40 points. The tournament was held at the Greendale Golf Course in Alexandria. By virtue of their victory, the Patriots now move onto the Northern Region championship beginning October 7.
Slade won the individual title with a score of 148 — shooting a 75 on day one and a 73 on day two. Yorktown freshman Thomas Strandeno finished in second place with a score of 158.
Brothers Elliot and Wade Oakley rounded out the top-five for Yorktown, with both finishing in a tie with a score of 166.
The Washington-Lee golf team finished fourth place within the district and was led by Robbie Burgess, who came in ninth place in the individual competition.
Wakefield High School was led by Ward Benneford, who finished with a two-day score of 186. Both Burgess and Benneford qualified for the Northern Region tournament.
<b>Hanson Gets Historic Win</b>
The Yorktown Patriots football team defeated Falls Church last Friday, 35-7, and in process got coach Bruce Hanson his 150th victory at the school. It was Hanson's 180th win overall.
Seniors Jared Smith and Kyle Toulouse led the way for the Patriots, combining to score all five of the team's touchdowns.
The win sets up a pivotal National District matchup between the Patriots and Edison this Friday at Yorktown at 7:30. The game pits the only two teams with unblemished records within the National District.