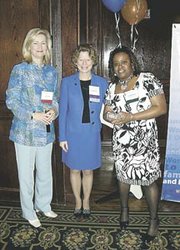 Arlene "Vicky" Robertson of Alexandria was one of five Northern Virginians honored last week for efforts to protect children and support families. The event was SCAN (Stop Child Abuse Now) of Northern Virginia's official kick-off for April as National Child Abuse Prevention Month.
Robertson has been a prevention advocate in the City of Alexandria for 28 years. Today, she is a school social worker with the STEP (Secondary Training and Education Program) Center/Academy 1 at T.C. Williams High School, but her knowledge of — and commitment to — prevention began when she was a Child Protective Services social worker for Alexandria Department of Human Services, investigating complaints, providing intensive family therapy services and working with high-risk families on a daily basis.
Robertson's work has also focused on teen parents, providing educational group sessions for young mothers that focus on healthy parenting, stress management and general care of mother and baby. In addition, she educates these mothers on protecting their own children from abuse and neglect.
NVCC President Dr. Robert Templin was the event's keynote speaker, and NBC4's Julie Carey presented the awards. Verizon was the lead sponsor of the event.
More information on SCAN (Stop Child Abuse Now) of Northern Virginia can be found at www.scanva.org.