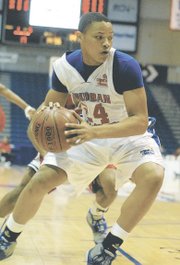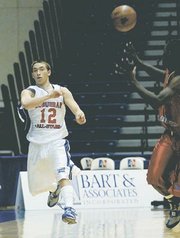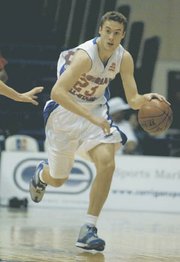 In all-star basketball games such as the April 9 Capital Classic at American University's Bender Arena, players are substituted freely, enabling everyone to see some playing time and allowing no one to get all that tired.
Stephen Stepka, a senior forward for the W.T. Woodson Cavaliers, made sure, albeit not intentionally, that he was afforded even more rest. While his teammates took the floor, Stepka was still getting dressed, the result of accidentally driving to Gonzaga College High School instead of the Northwest D.C. campus.
For the first 10 minutes of the first half, Stepka sat on the right of the Suburban All-Stars' bench without his blue pullover, a forgotten accessory during a moment of panic.
"I was rushing so quickly," Stepka said, "I forgot to put it on."
The disorganization, though, didn't carry over. In a 113-104 loss to the District All-Stars -- a precursor to the evening's marquee matchup -- Stepka made several important contributions, scoring six points on 3-of-6 shooting while also accumulating two blocks, three assists and six rebounds.
"I just went out and played as hard as I could," said Stepka, who was the Liberty District Player of the Year and a first team All-Northern Region pick. "It's an all-star game so sometimes you don't get the ball as much as you would like because other guys like to take it themselves, but hustle plays are what shows in a lot of these games."
In the primary showcase, Paul VI guard Erick Green posted a team-best four steals to go along with his 10 points, and his Capital All-Star squad pulled off a 129-98 upset of the United States All-Stars.
Committed to Virginia Tech, Green averaged 17 points, seven rebounds and had a 5:1 assist-to-turnover ratio for the Panthers (19-15) this winter, as Paul VI snagged its first-ever Virginia Independent Schools Athletic Association (VISAA) state championship.
<b>DOMINIC MORRA</b> spent most of his senior year at Lake Braddock posting did-you-see-that-type scoring numbers. Fifty points during a season-opening win over Robinson. Forty during a holiday tournament loss to KIMA on Dec. 31.
But last Thursday for a preliminary game before the 36th-Annual Capital Classic, Morra assumed a different sort of role. In a showcase scenario that often overflows with offense, Morra became the Suburban squad's facilitator, dishing out a game-high five assists.
"The game wasn't about scoring, so I had to change up my whole game plan from the season," said Morra, who finished his career as a Bruin with 1,561 points -- 43 less than former NBA player and Lake Braddock alum, Hubert Davis.
"The way I thought I would get the most recruitment out of it," Morra said, "was to play the natural point guard position, distribute the ball equally to everyone and then try to hustle and get steals."
He did that by treating his defensive assignments as if they occurred during the final two minutes of a Northern Region championship game against rival Robinson. Morra spent a good part of the evening diving after loose balls or pestering some of the more-flashy and less-defensive-minded players around him.
"I tried to get every loose ball I could," Morra said. "Every time [the ball] wasn't in someone else's hands, I wanted it in mine. To stand out, you really had to do things to make people say 'Wow,' or 'That guy was really playing hard.'"
<b>FOR SOME,</b> like Morra (game-high five assists), who became less of a scorer and more of a distributor, the Capital Classic can alter the roles of those involved. But for Lee senior Frank Holloway Jr., a 6-foot-6 post player, the 36th-Annual event offered a platform to showcase his season-long dominance of the paint.
Holloway led the Suburban All-Stars during a preliminary game against the District All-Stars with 16 points and seven rebounds, connecting on seven of his 13 shots. He also started and played a game-high 21 minutes. But for others, Holloway said, the biggest assignment was changing roles and realizing that everyone on both teams was a star during the regular season.
"We practiced a lot, but it was just hard accepting your role," said Holloway, who led Lee to the Northern Region semifinals this winter. "All of us played on different teams, and we were all stars on our teams. So it's hard accepting that role to do what you have to do."
In the nightcap, Springfield native Tristan Spurlock, a University of Virginia-bound forward who attends Word of Life Christian Academy, had 15 points and a team-high four assists during the Capital All-Stars' surprising upset of the United States team, 129-98.
The 6-foot-8, 220-pound Spurlock averaged 23 points and nine rebounds this season and was voted to the Capital Classic's All-Tournament Team.