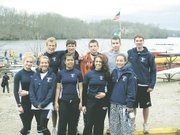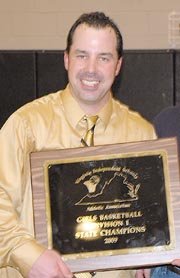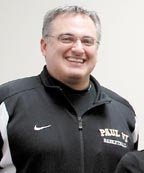 <b>Winter Does Rams Well</b>
Between the fall and winter sports seasons, no school made a greater push for the Wachovia Cup than Robinson, which went from 44th to second place, earning 150 points through the winter. The Wachovia Cup recognizes the Virginia High School League schools that perform the best at the state level across all sports, with point totals that correspond to performance in state tournaments. In 19 years, a team from the Northern Region has earned Wachovia honors seven times, with Lake Braddock winning the most (4), followed by Centreville (2) and Langley (1). Oakton leads the chase with 197.5 points, while Robinson is followed by Albemarle and Frank W. Cox. Westfield is fifth with 142.5.
<b>State Champs Again</b>
At the beginning of April, the George Mason University Gold's men's Special Olympics basketball team won the Virginia state championship tournament, which was held in Stafford. Coached by Leo Alonso, the team topped the Reston Hawks in overtime during the tournament's first game and then defeated Spotsylvania with a shot at the buzzer.
"We have won so many state competitions in all the sports through the years. This year it was special and the most exciting of the 27 years," said Alonso in a press release issued by the team. "Even though the kids were dead tired in the second game, they wanted to win. They were being brave in the attempt."
<b>Bayliss Nets Winner</b>
Mike Bayliss, a fifth-year senior attackman on the Wingate University (Division II) men's lacrosse team, scored 1 minute, 18 seconds into overtime during an April 9 matchup with Catawba College, giving the Bulldogs an 8-7 win. The goal was Bayliss' 17th this season and helped his team improve to 8-7 overall, 3-2 against Deep South Conference opponents. A No. 3 seed, Wingate will play second-seeded Saint Leo Friday, at 4 p.m., in the semifinals of the DSC tournament. Before missing his would-be senior season because of injury, Bayliss notched 18 goals and 10 assists as a junior. Bayliss was a three-time all Patriot District and a two-time All-Northern Region pick at Hayfield. He was also an honorable mention All-America choice during his senior season.
<b>Panther Coaches Rewarded</b>
Scott Allen and Glenn Farello from Paul VI have each been named the Virginia Independent Schools Athletic Association's Division I Coach of the Year for their respective duties. Allen just finished up his seventh year at Paul VI as the varsity girls' basketball coach, recently leading his team to its third straight VISAA state championship. The Lady Panthers have now won five state titles in the last seven years. Also honored was varsity boys' basketball coach Glenn Farello, who just completed his second year at Paul VI. The boys' team claimed a VISAA state title as well, its first-ever such crown.
<b>Softball Tryouts</b>
The NoVa Blaze, a girls' travel fastpitch softball organization will conduct a tryout for its U-16 and U-18 teams on May 3 at McLean High School from 12-2 p.m. For more information, visit the Blaze's Web site at www.novablaze.org.
<b>Lacrosse Registration</b>
NoVa West Lacrosse is conducting registration for its summer camps, clinics and select teams. Camps and clinics will be offered throughout June and July, while tryouts for the U-15 Virus will be May 16 and 17. Tryouts for the Crusaders and Outbreak, two high school select teams, will be on May 23 and 24. NoVa West has recently been selected as the exclusive provider for lacrosse in the new Purcellville Pavilion indoor facility and will be hosting summer, fall and winter indoor leagues there. For more information, visit the organization's Web site at www.NoVaWestLAX.com.
<b>Football Officials Needed</b>
The Northern Virginia Football Officials Association (NVFOA) is seeking new members for its 2009 training class. No experience is necessary and both men and women over the age of 18 are welcome. The NVFOA is the sole supplier of public high school football officials for the cities of Alexandria, Winchester and Falls Church and the counties of Arlington, Fairfax, Prince William, Loudoun and Fauquier. Football officials are also supplied for the Interstate Athletic Conference and the Mid-Atlantic Athletic Conference, which include private schools in the Washington, D.C. metropolitan area. Training classes begin June 9. Applications and information can be found at www.nvfoa.com or by contacting commissioner Dennis Hall at 540-837-1316 or via e-mail at commissioner@nvfoa.com.