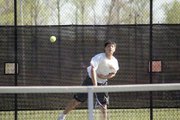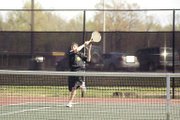 Anyone who's ever played tennis, or even ping pong or racquetball, for that matter, against a superior opponent can attest to the importance of controlling play and the pace of the game.
If one player can move his or her opponent from side to side, forcing them to hit less-desirable shots, the controlling player is rewarded with a chance to do the exact opposite. If the tables are turned and a player is knocked outside his or her comfort zone, it doesn't exactly make for an enjoyable afternoon.
While it's easy to recognize the importance of commanding the flow of a match, it's just a tad harder to do so. But through eight matches thus far, Lake Braddock's boys' tennis team has spent a hefty portion of the spring dictating play, with the seven other Patriot District teams chasing after the Bruins.
"They've been going after it and playing how they want to play," said Bill Hughes, the boys' team's head coach, whose group has won its past six matches by an average of six points per match. "When you're not dictating play, you start doing things that you're not comfortable with and it goes downhill."
Hughes said that each player on his team is different. Many of them require a pre-match talk to discuss strategy and outline a particular game plan. Others are more spontaneous, electing instead to react at a moment's notice instead of planning things ahead of time.
No matter how it's done, the results have given the Bruins a stranglehold on the district. Despite losing its four top players from last year, Lake Braddock has re-loaded and now finds itself at 8-0 with a pair of wins over last year's Patriot champion, T.C. Williams.
<b>IAN HUANG,</b> Lake Braddock's No. 1 singles player and, along with partner David Kim, half of its top doubles pairing, is the perfect example of what makes the Bruins tick. After every match, good or bad, Huang will assess his performance with Hughes.
Most of the time, at least, the assessments are the same.
"He's very reflective about his play," Hughes said. "He'll come over after the match and think back about how it went, whereas some players come off [the court] and they don't go back and think as much about what they could have done better."
The philosophy has worked. Despite missing matches against Hayfield and West Potomac, Huang is 5-1 this season. In doubles play, the tandem of Huang and Kim is 5-1, too.
"If you make a mistake and get into a bad mental state or something, you'll probably make a lot of mistakes," said Huang, a sophomore right-hander. "I like get in the zone, hit balls and make the other person run. I like to control the flow of the game."
Behind Huang, No. 2 singles player Scott Huang -- no relation -- has gone an impressive 8-0, with Kim toting a 6-2 mark at the No. 3 slot. Furthermore, Hughes has been pleased with the depth that Brett Jones, Matt Belcher and Garrett Trump have afforded the Bruins at spots No. 4 through No. 6.
<b>NOT TO BE</b> outdone, the Lake Braddock girls' team has matched its counterparts shot for shot. With a 9-0 drubbing of T.C. Williams on Monday night, April 13, the Bruins improved their record to 8-0 this season as well.
"We're pleasantly surprised, but I wouldn't say we're very surprised," said co-head coach Susan Wells, who works alongside David Cole. Last season, despite having to replace five starters, the Bruins went 13-3, splitting the district title with T.C. Williams.
Lake Braddock's top two players from a year ago have swapped spots, with sophomore Shannon Allin leading the charge at No. 1 and senior Chelsea Lane having a fine season at No. 2. Junior Annette Cole remains entrenched at the third starting spot and classmate Megan Larsen has used her experience to become a valuable No. 4 singles player.
Sophomore Becca Kim has moved into the starting lineup at No. 5 and sophomore Tara Fialko has provided a steady influence at No. 6.
While the girls' team doesn't have a Michelle Nguyen -- last year's district and Northern Region champion from South County -- points have consistently come from every part of the lineup, all the way down to the No. 3 doubles pairing, which includes the Bruins' No. 8 and No. 9 players, Tra Pham and Flori Stravos.
"We have always had a lot of depth," Wells said. "We have 21 players, which is a very big team, but we try to make sure they have fun. … And they seem to be having fun."