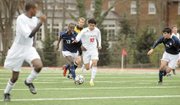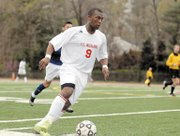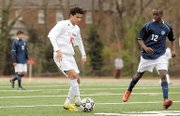 Usually T.C. Williams senior and reigning Patriot District Player of the Year Bryan Frank is the one called on to take crunch time free kicks for the Titan boys' soccer team. Sometimes the midfielder is asked to take throw-ins from deep in the opponent's territory since he's able to launch the ball halfway across the field.
So with Frank sick for Monday's game against Washington-Lee, the fact that T.C. Williams escaped with a 2-0 win — its third-straight victory — thanks in large part to those two skills speaks mountains about how much these Titans have overcome since beginning the season 1-5-1.
First it was sophomore defenseman Nazzareno "Trip" Spurio, whose long throw in with 14 minutes remaining in the opening half was misplayed by the Generals' goal keeper, allowing sophomore Teddy Opoku-Amoah to set up junior forward Conor Boyle for the game's initial score.
"Those long throw-ins are a big help, it's like a corner kick every time we get down there," said Boyle. "It helps us a lot. It gives us a lot more opportunities in the box and that's why we scored."
Junior Kevin Perreira made sure that tally stood the test of time with a little more than 10 minutes remaining in the second half. After a Washington-Lee yellow card, the Titans received a free kick just outside the Generals' penalty box.
Perreira then fired a curling David Beckham-esque shot that had the W-L keeper stuck in his tracks. The Titan midfielder admitted afterwards it was the first time he had done something like that in a game.
"Bryan usually takes most of them," said Perreira. "So since he wasn't here today, I got a chance to take it. … When I was warming up I wasn't missing any shots, so we just decided I was taking free kicks today."
W-L did mount a comeback late, getting several good opportunities in the Titans' zone, but goalie Matthew Crawley made a few tough saves look routine. Crawley combined with junior Jose Flores, who played the first half, to make eight saves.
<b>NOTHING HAS COME</b> easy for this year's version of T.C. Williams soccer. Coupled with the return of Frank, the defending Patriot District champions had high hopes early on. But after dropping a heartbreaking 5-4 loss to Mount Vernon to start the season, the Titans had trouble putting the ball in the back of the net, scoring more than one goal just once in their next six matches.
However, a convincing 3-0 win over district favorite South County on April 2 has buoyed the Titans as they try to re-enter the conversation amongst the region's elite.
"I think we just got a reality check," said Spurio. "We knew we needed to step up and start winning some games because we wanted to keep that reputation up from last year."
Coach Martin Nickley said the most frustrating part about the early losing skid was that his players were putting forth a strong effort, they just weren't seeing any results for their hard work. But he said starting with that victory over South County, his team has seemed more focused.
Another piece to the puzzle was simply getting familiar with one another. With just three returning starters on this year's squad, it took Nickley and his team some time to figure out what works best for this team.
So with or without its star player, that T.C. Williams scored on two set plays was no coincidence.
"As you get into the season, you figure out what your strengths can be," said Nickley. "You try to find out what those strengths are and try to play to them as much as you can. When you get off to a poor start, there's two ways you can go. You can keep off on that pace or you can really regroup and refocus and I think that's what our players did."