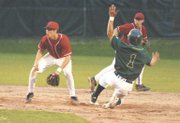 <b>Marshall High School</b> recently introduced Bill Lapthorn as its new head football coach. Lapthorn, a native of Cincinnati, played football at the College of Mount Saint Joseph. There, he earned a degree in health and physical education. Lapthorn coached football for five years at Cincinnati Winton Woods school, while also earning his masters degree in secondary education at Xavier University.
After completing his masters, he moved to Northern Virginia and accepted a position at South Lakes High School, where he taught health and physical education and served as the football team's offensive coordinator. In 2007, Lapthorn joined the Marshall High community as a varsity assistant coach and health and physical education teacher. He said his goal for the Statesmen football program will be to produce a team that the entire Marshall community can be proud of by building champions on the field and in the classroom.
<b>T.C. Williams High girls' basketball</b> player Tierra Ruffin–Pratt was unanimously selected as the Virginia State AAA Girls Basketball Player of the Year by the Virginia High School Coaches' Association (VHSCA) during recent meetings in Charlottesville. Ruffin-Pratt, headed to North Carolina on a college basketball scholarship, led the Titans to the region finals this past winter season. There, T.C. lost to Oakton in the finals.
Joining Ruffin-Pratt on the All-State First Team were: sophomore Elizabeth Williams and junior Samisha Powell (both of state AAA champion Princess Anne of Virginia Beach), senior Tashuana Rodgers of King's Fork (Suffolk) and Forest Park (Woodbridge)point guard Danni Jackson.
Local All-State honors went to Myesha Goodwin (Edison High) and Kyani White (Stonewall Jackson of Manassas), who were named to the Second Team. Gerda Gatling (Forest Park), Shelby Romine (Westfield), Tracy King (Mount Vernon) and Kelcyn Manurs (South Lakes) received Honorable Mention accolades. Oakton's Fred Priester was named state AAA Co-Coach of the Year with Princess Coach Darnell Dozier. Priester led the Cougars to the state finals this past season.
At the State AA level, Mexiandra Porter of state champion Freedom High (South Riding) and Kendra Holmes of Division 4 state champion Loudoun County were named Players of the Year in their Divisions. Coach Jason Eldredge (Freedom) and Kevin Reed (Loudoun County) were named Coaches of Year in their respective Divisions.
Priester will be the head coach of the West squad and Eldredge and Reed will assist coach Rachel Mead (Cosby) with the East Squad in the VHSCA All-Star game to be held on July 7 in Hampton. Oakton High's Erin McGartland will be a member of the East squad.
<b>The Madison High Girls'</b> basketball Camp will take place on July 13-17, 8:30 a.m.-2:30 p.m., and July 20-24, 4-8 p.m. For more questions, go to warhawkssports.org or contact Madison coach Kirsten Roberts at Kirsten.Roberts@fcps.edu
<b>The Marshall High</b> girls' field hockey camp, for players grades fourth through 10th, will be June 29-July 2, from 6-9 p.m. Cost is $100. The camp is ideal for both field players and goalkeepers, who are either beginners or looking to refresh their skills before the upcoming fall season. Camp information can be found at www.gcmstatesmensports.org (go to field hockey, then camps/clinics). For more, e-mail Coach Christina Carroll at christinaLcarroll@gmail.com.
<b>Vienna's Katie Nutaitis</b> is a sophomore first baseman for the Charleston College (Conway, S.C.) women's softball team this spring. Through March 20, Nutaitis, a former standout player at Bishop O'Connell High in Arlington, was second on the team in batting average at .271.
<b>Vienna resident William Snead</b>, 66, will be running at the upcoming 113th Boston Marathon on April 20. In the renowned, annual race, he will be competing as part of the American Liver Foundation Team.
At the marathon, 240 runners from 26 states will comprise the American Liver Foundation's Run for Research (RFR) team. These individuals will run 26.2 miles to help the 30 million Americans who are affected by liver disease. On Marathon Monday, Snead will be among the many who tackles the rigorous marathon course from Hopkinton, Mass., through the hills of Newton and on to the finish line in Boston.
<b>Vienna's Brandon Altmann</b>, a member of the University of Mary Washington men's basketball team, was recently named Second Team All-Region by D3Hoops.com. Altmann, a junior center, also gained first team, All-CAC honors after leading the Eagles in both scoring (17.7 points per game), rebounding (11.1) and blocked shots (43 on the season).
<b>John "Metz" Myrah III</b>, son of John and Diana Myrah of Vienna, was named the Most Valuable Player of the Randolph-Macon Academy (Front Royal) boys' junior varsity basketball team for the 2008-09 season. Metz is a sophomore at the Academy, a college-preparatory, coeducational boarding school for students in grades six through 12.
<b>For the first time</b> in Oakton High's short crew history, all four varsity boats qualified for the finals at the recent Polar Bear regatta. The Women's Varsity 8 battled for first place, ultimately taking second.
<b>The Langley High</b> boys' tennis team defeated Madison, 7-2, in a Liberty District match held at Langley on March 27.The Saxons, with the win, moved into second place in the regular season standings, just ahead of third place Madison. Jefferson is currently in first place.
Madison's lone s ingles winner in the Langley match came from Dan Sablik at No. 1 singles. Langley's singles winners were: Andrew Dailey (No. 2 singles), Kory Kianpour (No. 3), Franklin Sun (No. 4), Josh Cooper (No. 5) and Evan Berner (No. 6). In doubles, Madison's No. 2 team of Sam Shroder and Eric Leeson was victorious. Meanwhile, Langley's No. 1 team of Andrew Dailey and Sun won, as did the Saxons' No. 3 team of Cooper and Vincent Ning.
<b>Stuart High senior</b> Corey Haynes recently signed a collegiate scholarship to play women's volleyball at Division 1 St. Peters University (N.J.). Haynes will be the first Stuart (Falls Church) girls' volleyball player to ever play the sport in college. The Stuart volleyball program started up in 2003. The Raiders, members of the Northern Region's National District, are under coach Sharon Ponton.
<b>The Madison High girls'</b> lacrosse team lost a recent Liberty District home game to Woodson, 18-8. It was the first loss of the season for the Warhawks, who were 7-1 following the setback.
<b>The Northern Region Baseball</b> Coaches Association Top 10 Poll, as of April 1, was as follows: 1. West Springfield (4-0); 2. Chantilly (5-0); 3. Lake Braddock (2-1); 4. Westfield (4-0); 5. Langley (3-0); 6. McLean (2-1); 7. South County (2-1); 8. Stone Bridge (3-1); 9. Woodson (2-1); 10. Madison (2-1). Other teams receiving votes: Robinson, T.C. Williams, Yorktown, Mount Vernon.
<b>Annual tryouts</b> for Future Elite Lacrosse, a travel lacrosse team representing high schools from across Northern Virginia, are taking place. Girls' players in the ninth and 10th grades are encouraged to try out. Tryouts are at Sugarland Valley Field in Herndon. For more information, go to www.FutureEliteLacrosse.com.
<b>The need for new high school</b> football officials is becoming a big issue in the greater Washington Metropolitan Area. With new schools opening and more students participating, the need for new officials is ever increasing. If interested in becoming a high school football official, contact with Dennis Hall at 540-837-1316 (w).
<b>The Marshall High girls'</b> tennis team defeated a talented Jefferson squad, 6-3, in a Liberty District match played on March 30. The contest, played under bright skies but in cool temperatures and gusty winds, lasted five hours. Winning in singles for Marshall were No. 1 Faby Chaillo, No. 2 Ana Dominguez and No. 4 Amanda Crider. Following singles play, the match was tied at 3-3. But Marshall swept in doubles action. Winning in doubles for the Statesmen were the teams of Chaillo and Dominquez (No. 1), Crider and Lauren Hopwood (No. 2) and Kelly Crider and Astrid Adam (No. 3).