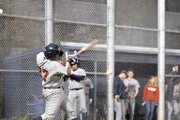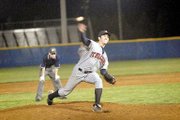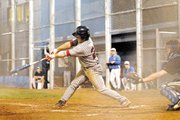 When T.C. Williams rightfielder Matt Kilby stepped to the plate in the top of the first inning Friday night against West Potomac, there was a lot more on his mind than simply getting a hit.
Sure, the Titans' first two batters in the frame had reached base on walks, meaning Kilby had the opportunity to give T.C. Williams an early lead over a team it's battling for fourth place within the Patriot District.
But Kilby's thoughts had bigger, more far-reaching implications. Amongst the various parents, children, and youth league teams in the stands Friday night at West Potomac were two men wearing Navy baseball polo shirts, both there to determine if Kilby was Division-I baseball material.
That the Titans ended up losing, 8-7, after allowing the Wolverines to score six unearned runs on nine errors mattered little to the Midshipmen coaches on hand. They left before the fourth inning was complete.
So it was deflating to see Kilby, who's sporting a .418 batting average this season, trudge back towards the dugout after looking at a called third strike in that first plate appearance. Then again, who could blame him? It's hard to have the future riding on one swing.
"It was completely different than anything I've been through," said Kilby. "It was nerve wracking, I'll tell you that."
<b>THE LOSS</b> was a pivotal one for T.C. Williams (6-6 overall), who were coming off a relatively successful 2-1 showing at a spring break tournament in Myrtle Beach, S.C. The Titans are now a game and a half behind West Potomac in the race for fourth place in the Patriot District, a coveted position since only the top four make it to the regional tournament.
It was even more discouraging considering the Titans had faced a better South County team the day prior and taken them to the brink, losing 6-3.
The momentum and confidence boost provided from that close defeat appeared to show itself early on Friday night. The Titans hit Wolverine starter Art Genaurio from the get go. Shortstop Trav Clark, who has a .576 batting average this season but had a night to forget in the field, started things off with an RBI double.
Catcher Robert Mannel followed with an RBI fielder's choice, and then Clark scored on an error by West Potomac second baseman Casey Hagan to give T.C. Williams a 3-0 lead in the first inning.
But the Wolverines answered right back in the bottom of the second with two runs off Titan errors, and the seesaw battle was officially on.
All of West Potomac's eight runs on the night were scored through errors or walks. T.C. Williams answered with some timely hitting, scoring two runs in both the third and fourth innings. Starting pitcher Steven Weidman had a two-RBI single in the third, while Kilby and Clark had RBI hits in the fourth.
But once West Potomac ace Danny Peterson entered in the fifth inning, he shut the door on the Titans' mistake-plagued night, notching three-consecutive 1-2-3 innings. He also scored the game's winning run from third base after a dropped third strike in the fifth inning.
"We don't have any excuses, we didn't get the job done," said T.C. Williams coach Andrew Simpson after watching his team blow three different leads. "We knew we needed this game, and through errors and walks, we gave it away."
<b>THE NIGHT WASN'T</b> a complete loss, though. The reason the scouts left so early was they had seen enough out of Kilby. When he came to the plate to lead off the third inning, he took an outside fastball and smashed it down the right field line for a double. His next at-bat resulted in an RBI double into the left field corner.
Kilby, who has also fielded interest from Ivy League schools like Datrmouth, Columbia, and Princeton, now leads the Titans with 17 RBIs this year. Also performing well for the Titans this season, who graduated seven all-district selections from last year's team, has been leadoff hitter Adam Forrer (.395 BA), sophomore Will Rossi (.357), pitcher Alex Goldfarb (.391), and Mannel (.400).
"There are intangibles, there are untouchables, and there's little things, and there are things as a coach you can't teach, and [Matt] brings them all to the table," explained assistant coach Matt Becchio. "He's our captain, he's our leader, and the kid is just a stud ballplayer."
The lesson learned is one bad showing at the plate doesn't make a career, just as one sloppy game doesn't end a season. T.C. Williams will look to rebound this week with games against district power Lake Braddock, Lee, and Hayfield — all of which occur after the Gazette Packet's deadline.