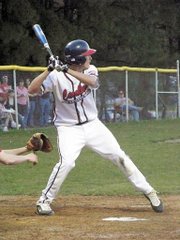 Mom can decipher which one's which. Dad, according to his sons, constantly gets confused and makes excuses to cover his mistakes. Chris Warren, W.T. Woodson's baseball coach, is just thankful the pair have numbers on the back of their jerseys.
As it turns out, opposing hitters and pitchers are not the only ones that John and Joe McGillicuddy have tormented lately.
Identical twins that play corner infield spots and pitch for the Cavaliers, the McGillicuddy twins might be different in how they approach the game, but the results, on both sides, have been equally as impressive.
The taller of the two with slightly broader shoulders, John McGillicuddy is a prototypical starting pitcher. His pitches aren't quite as dynamic as his brother's, but he's much better at pitching to contact, keeping his pitch counts down and enabling him to stay in games longer.
Joe McGillicuddy is a natural reliever. He pitches primarily from the stretch, with a hard, 12-to-six curveball that makes his twin brother jealous. But Joe McGillicuddy pitches for strikeouts, meaning his pitch counts tends to run a bit high.
"I think it's good because even though we're twins, we're not exactly the same on the mound," Joe McGillicuddy said.
<b>BOTH EMERGED</b> onto the local baseball scene last spring as freshmen, combining to go 3-3 in 43 innings for W.T. Woodson, which finished 11-10 overall, 7-7 in Liberty District play.
Besides their on-field exploits, the McGillicuddy twins have made an impression on Warren with their off-the-field work, too.
"They're good team guys, Warren said. "They do whatever they're asked to do. They're just a real plus to the team in terms of what they bring to the table. They both have good work ethics, and I've been really impressed with both of their developments since last year."
So far this spring, the McGillicuddy twins have a combined record of 2-1, with John McGillicuddy allowing only three earned runs in 19 innings of work and Joe McGillicuddy averaging almost a strikeout per inning.
With W.T. Woodson taking its 7-5 record into Wednesday night's home game against Marshall -- a game that ended too late for this edition -- John McGillicuddy has had a greater impact this season than his brother because with right shoulder soreness, Joe McGillicuddy remains unavailable.
Not that Joe McGillicuddy hasn't been a positive influence on his brother.
<b>ON A 5-ACRE</b> plot of land in Clifton, the twins immerse themselves in baseball. The room they share is all baseball all the time, both with conversation topics and décor. They even have their own personal batting cage out back.
After practice or if there's a game, the McGillicuddy twins will go home and talk, discussing each play, each at-bat and, really, each pitch.
"We try to critique each other, and we get straight to the point," said John McGillicuddy, who is hitting .385 this season with 10 RBIs. "If he did kind of bad, I tell him what he needs to work on and he takes it to heart."
Both are part of a talented cadre of sophomore pitchers that also includes Bryson Hough, Tyler Wislocki and reliever Joe Brendler, who struck out the side in his first inning of work Saturday, April 18, during a 9-6 win over Annandale.
Besides the sophomores, W.T. Woodson, as evidenced by a 7-3 upset win over West Springfield over spring break, has flourished offensively with a batting order comprised of more juniors and seniors. Colin Dempsey, Kirk Lewis and Connor Reilly, are all regular players who have hit over .400 on the season.
"Most of our pitching is made up of sophomores, so we're a little up and down," Warren said. "But if we can continue to improve, then hopefully we'll be one of those teams that people don't want to play at the end of the year."