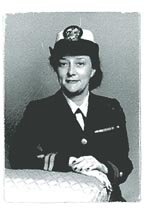 Helen Traub Hilliard died on Easter morning, April 12, 2009, at The Fairfax at Fort Belvoir. Born Helen Pauline Traub in Pine Bluff, Arkansas, on July 3, 1913, she graduated from St. Joseph School of Nursing in Memphis, Tenn., in 1935 as a registered nurse and did post-graduate work at the University of Chicago. She was in the U.S. Navy from 1942 to 1962, during which time she served in the Pacific during World War II, received advanced training at George Washington University as a dietician, and retired with the rank of Lt. Commander.
She was preceded in death by her husband, Ben, former manager of Belle Haven Country Club, whom she married in 1949. She is survived by a godchild, Craige Moore Cioletti, of Jersey City, N.J.
Arrangements by Everly-Wheatley Funeral Home; services were at Christ Church Alexandria, Thursday, April 16, 2009. Interment at Arlington National Cemetery will be on July 29, 2009, at 11 a.m.
In lieu of flowers, memorials may be sent to the Christ Church Foundation, 118 N. Washington Street, Alexandria, VA 22314.