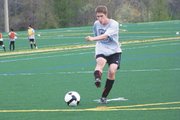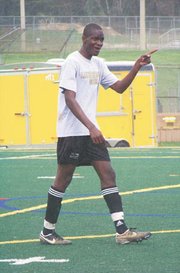 Some aspects of the spring sports season volleyball or basketball coaches will never understand. It's not out of ignorance. It's just not likely that a volleyball match or basketball game will get rained out anytime soon.
In the spring, such occurrences, according to essentially every coach working during that time period, happen far too often. The past few days for Northern Region teams have been no exception, with buckets of rain resulting in several games getting crammed into a short period of time.
At Lake Braddock, the boys' soccer team played its second game in the past 22 days Wednesday night when it traveled to Hayfield for a Patriot District matchup that ended too late for this edition. The next two nights, Lake Braddock is scheduled to host West Potomac on Thursday and Lee on Friday.
With a 2-1 mark against district opponents before the match with Hayfield, Lake Braddock's three-game swing could jolt the Bruins to 5-1 and have them atop the district. Or, a horrendous three days could have the Bruins at 2-4 and looking up.
"You just have to deal with what comes your way," said senior Emmanuel Kassim, a slick-footed midfielder who has made the midfield a valuable asset for Lake Braddock. "If you have two weeks off, you just have to make sure that you're ready because it's easy to get distracted and lose focus."
Classmate Tony Gai, a defender, pointed out that stretches like this can also be crucial for postseason seeding.
"You have to play every game as hard as you can because every game matters, and it all determines how we stack up in the postseason tournament," Gai said. "We need to get the best record we can to make it easier on ourselves later."
<b>AFTER THE</b> three-game stretch, Lake Braddock, barring more rain, will take four days off before a match next Tuesday against South County, which has surprised many with its 7-1 start to the season. If the Bruins take care of Hayfield, West Potomac and Lee, a battle for district supremacy on April 28 could be a possibility.
The scheduling rollercoaster has been only one of several challenges for Lake Braddock this season. Between injuries, man-game losses to club soccer and the fact that the Bruins also have a couple of freshmen that have seen significant time, coach Joe Soos has not been able to roll out the same lineup twice during the course of the season.
"I think we have some pretty strong personalities on our team, and we're trying to sort through that and find the right chemistry," Soos said. "But it has certainly afforded other kids the opportunity to play."
Soos said that practice has been much more competitive because of the ever-mutating lineup and that no job is safe. Anyone can get hurt. Everyone, really, could be inserted into the game at any point.
On Tuesday afternoon, Lake Braddock practiced at South Run Park in Springfield. After a 20-minute warmup, the Bruins split off into two groups, with one set of players wearing yellow pullovers, the other sporting gray T-shirts. Every aspect of practice, whether it was a shooting drill or possession drill, was kept track of with some sort of score.
"Practice is better because nobody's spot on the team is safe," Kassim said. "Knowing that the person on the bench can take your spot at any time motivates both the person on the bench and the person on the field to play better. It's only positive to have that situation."