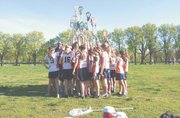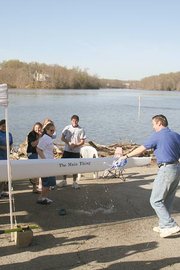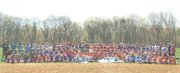 <b>Pakistani Players Visit Robinson</b>
Don't be shocked if a girls' soccer team from Islamabad, Pakistan soon claims its first-ever Concorde District or Northern Region title.
On Wednesday, April 15, 14 high school-age soccer players from Pakistan visited Robinson Secondary School as part of a cultural exchange program. In addition to a one hour clinic with Robinson's girls' soccer team, the two groups sat down and had veggie and cheese pizza for lunch.
The equivalent of a Pakistani school district official was one of the chaperones on the trip, and while at Robinson, spent considerable time discussing the regular season and playoff structure that most people, the Rams included, take for granted.
"One of the things that they're trying to do is to bring organization to the different areas of the city," said Rams coach Jim Rike.
The group took a tour of Robinson, visiting a biology classroom that one Pakistani player said was "10 times the size as her own," while also visiting Robinson's band and choral rooms, with the girls from abroad marveling at the bounty of trophies that both groups had won.
"They could relate to the trophies because apparently their team is pretty good," Rike said.
According to Rike, the first 25 minutes of conversation centered around the cultural differences and who was or wasn't allowed to do what. After that, it was pretty much typical high school talk, focusing on clothes, school grades and college. Both sides even promised to stay in touch via Facebook.
"It was very beneficial," Rike said of the interaction. "It was a great exchange of cultures."
<b>Wildcat Time on Mall</b>
Last weekend, the Springfield Youth Club Wildcats, a U-13 girls' lacrosse team, participated in the Cherry Blossom Lacrosse festival on the grounds of the National Mall. The Wildcats played their four games with passion and perseverance, as the team tied two and lost two. But in league play, at the midway point of the season, the Wildcats sit at 4-0 and in first place in their division. Highlights from Saturday included some quality goalkeeping by Grace Hellier and Kate Spata as well as stout defense provided by Maureen Ammirati, with great work at the draw circle by Emily Dennee. The offensive point leader for the day was Neely O'Grady. Other notable efforts came from Tina Nagel, Rachel Montavon, Jade Samec and some guest players from Springfield's U-11 team that played up for the tourney, Courtney Coster and Caitlyn Smith.
<b>Rebels' New Ride</b>
The Fairfax crew team, with a little help from school principal Dr. Scott Braband, christened its $18,000 new boat, titled "The Main Thing," prior to the Saturday, April 18 Darrell Winslow Regatta. In its first action, the boat was victorious in the men's lightweight 4 race a week prior to capturing second in the men's first 4 race at the Darrell Winslow race.
<b>New Opponent for Lange</b>
Junior middleweight boxer Jimmy Lange (29-3-2, 20 KOs) has a new opponent for the World Boxing Council (WBC) United States National Boxing Championship (USNBC) Super Welterweight (154-pounds) championship fight coming to the Patriot Center on May 2. After his previously-confirmed challenger (Ryan Davis) unexpectedly backed out, Ice Promotions officials confirmed that Frank Houghtaling (19-15-5, 4 KOs) of Albany, N.Y., had accepted to fight the popular Great Falls, Va. boxer in a 12-round Main Event title fight.
Houghtaling has won three regional titles and fought tough competition during his career, including a victory over former world champion Livingstone Bramble. The cagey veteran was stopped by Matthew Hutton in the seventh round of their IBF International Welterweight title bout two years ago and dropped a 10-round decision to former world champion Sharmbra Mitchell at DC's Lincoln Theatre.
Lange, a Bishop O'Connell High graduate (Arlington), rose to 21-1-1 over his first five years, earning an unmatched regional following in the local area. In 2003, he scored high marks and won fans at the national stage with his impressive third-round TKO of former WBF light heavyweight champion Homer Gibbins live on ESPN2's Tuesday Night Fights.
His fame rose to new heights as a "Fan Favorite" on season one of the boxing TV series "The Contender," with hosts Sylvester Stallone and "Sugar" Ray Leonard. Since the show, Lange has headlined all six pro cards held at the Patriot Center, drawing more than 5,000 fans to each. In 2007, he captured the WBC's 154-pound Continental Americas' championship belt with an eight-round TKO rematch win over Fontaine Cabell.
An exciting fight card featuring up to 10 bouts of top professional local and regional boxers will be showcased on May 2. For tickets, call 703-573-SEAT.
<b>All-CAA Ram Duo</b>
James Madison University's Mike Smith and Matt King, two former Robinson tennis players were recently recognized as second team All-Colonial Athletic Association doubles selections when the all-conference teams were released last week. Smith, a Fairfax Station native, was an All-CAA pick for the third time after earning second team honors last season and third team honors in 2007. King, who grew up in Lorton, received his first All-CAA award. The pair played 10 doubles matches together, going 5-5 at the No. 1 slot. Smith, a junior, has a career record of 47-31 in doubles play and was 14-13 this season while playing with five different partners; a sophomore, King went 9-9 with four different partners.
<b>Colonial Crew Cruises</b>
The Jefferson crew team's men's varsity 4 boat finished 14 seconds ahead of its closest competition, St. Joseph's Prep, at this past weekend's St. Andrew's Regatta, an invitational race in Delaware. Jefferson rowers Nolan Pollack (Fairfax), Chris Zeng (Great Falls), Nader Al-Naji (Springfield), Dan Granados (Brambleton), as well as coxswain Ashu Goel (McLean), all pulled double duty on the day, having competed in the first varsity 8 race only a few hours earlier. This week, Jefferson returns to the Occoquan for the Al Urquia Park Regatta.
<b>Lacrosse Registration</b>
NoVa West Lacrosse is conducting registration for its summer camps, clinics and select teams. Camps and clinics will take place throughout June and July, while tryouts for the U-15 Virus will be May 16 and 17. Tryouts for the Crusaders and Outbreak, two high school select teams, will be on May 23 and 24. NoVa West has recently been selected as the exclusive provider for lacrosse in the new Purcellville Pavilion indoor facility and will be hosting summer, fall and winter indoor leagues there. For more information, visit the organization's Web site at www.NoVaWestLAX.com.
<b>Football Officials Needed</b>
The Northern Virginia Football Officials Association (NVFOA) is seeking new members for its 2009 training class. No experience is necessary and both men and women over the age of 18 are welcome. The NVFOA is the sole supplier of public high school football officials for the cities of Alexandria, Winchester and Falls Church and the counties of Arlington, Fairfax, Prince William, Loudoun and Fauquier. Football officials are also supplied for the Interstate Athletic Conference and the Mid-Atlantic Athletic Conference, which include private schools in the Washington, D.C. metropolitan area. Training classes begin June 9. Applications and information can be found at www.nvfoa.com or by contacting commissioner Dennis Hall at 540-837-1316 or via e-mail at commissioner@nvfoa.com.
<b>Softball Tryout</b>
The NoVa Blaze, a girls' travel fastpitch softball organization, will conduct a tryout for its U-16 and U-18 teams on May 3 at McLean High School from 12 to 2 p.m. For more information, visit the Blaze's Web site at www.novablaze.org.
<b>Flag Football Registration</b>
The Northern Virginia "NFL" Youth Flag Football League has opened up registration for the fall season. The 2009 season will mark the league's 12th year in providing NFL Flag Football for boys and girls ages 5 through 14. The league is the oldest and largest NFL-sanctioned program in the Washington, D.C. area and focuses on teaching young players all the fundamental skills of football. To learn more about the program or to register, visit www.novaflag.com.