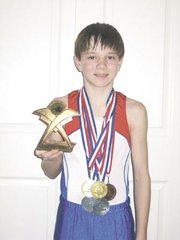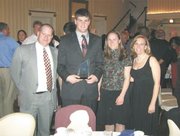 <b>Chantilly Hoops Smiling</b>
The good news came rolling in last week for Chantilly's boys' basketball program. John Manning, the team's 6-foot-11 defensive force, was recognized as an honorable mention All-State performer, while Justin May, a playmaking guard, signed his National Letter of Intent to play at Division-I Delaware State.
"We're really excited to watch him at the next level," Chargers coach Jim Smith said of May, who averaged 14 points, 5 rebounds and 3 assists per game this past season — all while shooting better than 60 percent from the field. "I told him, I'm going to be looking to pick Delaware State in my [NCAA] pool next year."
Though only a sophomore, Manning established himself as the Northern Region's premier shot blocker this winter, when he led his team to its first Concorde District title since 1999 by averaging 13 points, 10 rebounds and 3.5 blocks per game.
"He's just an incredible force defensively, and he continues to improve at the offensive end," Smith said of Manning, a first team All-District and All-Northern Region pick and the Concorde's Defensive Player of the Year. "I think there are still better things coming down the road for John."
<b>Volleyball Signings</b>
A pair of area volleyball stars, Chantilly's Allison Williams and Centreville's Celine Alasomuka, have verbally committed to continue their careers at Villanova (Big East) and William & Mary (Colonial Athletic Association), respectively, in 2010, according to a press release issued by their club team, Virginia Elite. A 6-foot middle blocker, Williams helped Chantilly (26-2) to both Concorde District and Northern Region title-game wins over Westfield and was recognized as a first team All-District and All-Region performer. Alasomuka, a 5-foot-8 outside hitter, was a second team All-District pick, leading the Wildcats to a 14-8 record.
<b>Tyler Kurowski Wins Gold</b>
Tyler Kurowski of Little Rocky Run in Clifton won the Virginia State Level 6 all-around gymnastics title at the state championship competition in Glen Allen in March. In addition to the gold medal for all-around, Kurowski won a gold medal in vault and silver medals on parallel bars, high bar and floor exercise. He placed fourth on rings and was a top-10 finisher in pommel horse. Competing in the 10-year-old division, Kurowski is coached by Steve Sheinman and trains at Capital Gymnastics in Burke. He finished 11th in the seven state Region 7 gymnastics competitions a week later. His favorite apparatus? The vault.
<b>Wisda Earns Scholarship</b>
Centreville senior David Wisda, an offensive lineman on the football team, received one of five $1,000 scholarships at the National Capital Region Chapter of the National Football Foundation and College Hall of Fame's annual High School Scholar-Athlete banquet at the Army-Navy Country Club in Arlington, held March 29. Attending the banquet were David's parents, Marty and Vivian Wisda, Centreville High School principal Mike Campbell, assistant football coach Mike Brown, teachers Edie Alcorn and Cathy Ruffing and teammates Chris Will and Patrick Shea. In December, Wisda was accepted into the Virginia Tech School of Engineering and plans to play rugby at the school.
<b>Basketball Coaches Needed</b>
Southwestern Youth Association basketball entered 20 boys' and girls' teams, from fifth through eighth grade, in the Fairfax County Youth Basketball League last winter. The organization is actively seeking coaches for the upcoming year, with interviews beginning May 1. Applications are available online at www.syasports.org.
<b>Westfield Basketball Camp</b>
The Westfield boys' basketball program will hold a series of four camps throughout the end of June and all of July. The first four-day session runs from June 29 through July 3; the second runs from July 13-17; the third from July 20-24; the fourth from July 27-31. For more information, contact Doug Ewell at 703-488-6406 or via email at douglas.ewell@fcps.edu.
<b>Chantilly Basketball Camp</b>
The Chantilly boys' basketball program will hold four consecutive weeks of basketball camps starting July 6 for boys ages 8 through 15. Cost is $150 and the sessions will be held at Chantilly High School. For more information, call head coach Jim Smith at 703-222-6306 or visit the Chantilly athletics Web site at www.chantillysports.org.
<b>Nominations Needed</b>
The Westfield Athletic Booster Club (WABC) is currently accepting nominations for the 2009-2010 Executive Board. The following positions are open for nomination: president, vice president, treasurer, recording secretary and correspondence secretary. The election will be held at the board meeting on Monday, May 4 at 7 p.m. To make a nomination, contact John Cleveland at gorebels1@verizon.net or 703-816-9440, Karen Duncan at wkduncan@aol.com or 703-222-4382 or Lory Sasek at Lorsas@aol.com or 703-222-6080.