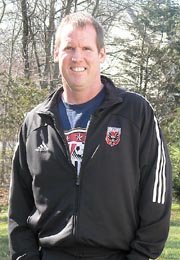 R0422-304
1500 x 2200
<pc>Photo by Craig Sterbutzel/The Connection
<cl>Herndon High boys' soccer coach Sean Lanigan will see his Hornets play a Concorde District game at Centreville High Friday, April 24, at 7 p.m. On Monday, April 27, at 7 p.m., Herndon will host district rival Westfield.
Virginia Elite Volleyball Club (Reston) has announced that two of its players from the Elite 17s team, Allison Williams and Celene Alasomuka, have committed to play the sport in college at the Division 1 level. Williams, a middle blocker, has verbally committed to play for Villanova University (Big East Conference).
"I'm excited to be playing volleyball for Villanova," said Williams, a Chantilly High junior. "Not only is Villanova a fantastic school academically, but I feel like I've found the perfect volleyball program for me."
Williams plans to study management information systems at Villanova.
Alasomuka, an outside hitter, has verbally committed to play for the College of William & Mary (CAA Conference). "I am honored and excited to be able to play for a great volleyball program at such a highly regarded, academically oriented school," said Alasomuka, a Centreville High junior. "This is a dream come true for me and I'm grateful to the coaches at William & Mary for giving me this terrific opportunity."
Alasomuka hopes to study International Relations at William & Mary.
Both players said the coaching and training they have received at Virginia Elite have been key in enabling them to achieve their dreams of playing volleyball at the college level. Both players will officially sign national letters of intent with their respective colleges during the next school year as seniors.
Virginia Elite is a member of the Chesapeake Region Volleyball Association (CHRVA) with a focus on building academic and athletic excellence in female volleyball players ages 13-18. For more information, go to www.vaelite.com.
<b>The Herndon High School Dance</b> Team is conducting tryouts for all interested rising ninth graders (current eighth graders) through rising seniors on May 13, 14, 15, 18 and 19, from 3-5 p.m., at Herndon High School. An interest meeting will take place on April 30, at 2:45 p.m., in the Herndon High Lecture Hall near the Main Office. The team performs dance routines for home football games, basketball games and competitions in the categories of pom and hip-hop. Dance team begins practice during the summer to prepare for camp and continues through February. Physicals dated after May 1, 2009 are required. See forms online at www.fcps.edu/HerndonHS. For more information, contact head coach Rachelle Aiken at rachnjas@yahoo.com or call 703-582-5960.
<b>The Langley High girls' lacrosse</b> team defeated South Lakes in a Liberty District contest played on Thursday, April 16. South Lakes' goals came from Tess DeAtley and Lara Duffy.
<b>South Lakes</b> is looking to fill the following coaching vacancies: varsity field hockey coach and dance team coach. All interested applicants may send their resumes to Linda.Jones@fcps.edu or fax them to her at 703-715-4688.
<b>The following Northern Region Coaches</b> Poll for boys' and girls' lacrosse teams is presented by TripleEDGE Lacrosse. Boys' Top 10: 1. Chantilly (5-1), 2. Langley (8-0), 3. Woodson (6-2), 4. Robinson (4-2), 5. Madison (7-1), 6. Oakton (4-3), 7. Herndon (6-4), 8. West Springfield (6-3), 9. Annandale (4-1), 10. Westfield (3-4). Girls' Top 10: 1. Chantilly (10-0), 2. Robinson (5-2), 3. Woodson (3-2), 4. Langley (6-0), 5. Madison (7-1), 6. Westfield (4-2), 7. Stone Bridge (6-2), 8. Oakton (3-3), 9. Annandale (8-2), 10. South County (5-1).
<b>The following Northern Region baseball</b> teams are ranked in this week's Coaches Poll: 1. West Springfield; 2. Chantilly; 3. Lake Braddock; 4. Westfield; 5. Langley; 6. South County; 7. McLean; 8. Stone Bridge; 9. Madison; 10. Yorktown. Other teams receiving votes: Woodson, Oakton, Marshall and Robinson.
<b>Stuart High senior Corey Haynes</b> recently signed a collegiate scholarship to play women's volleyball at Division 1 St. Peters University (N.J.). Haynes will be the first Stuart (Falls Church) girls' volleyball player to ever play the sport in college. The Stuart volleyball program started up in 2003. The Raiders, members of the Northern Region's National District, are under coach Sharon Ponton.