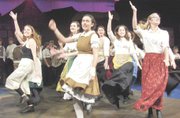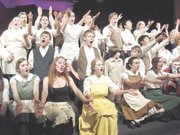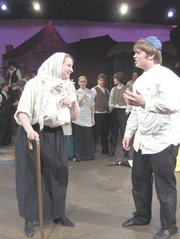 Tevye, Golde, Yente the Matchmaker — all these characters and many more comprising the heart and soul of "Fiddler on the Roof" will burst upon the stage in Robinson Secondary's rousing rendition of the famed play and musical.
Some 102 students are in the cast, crew and orchestra, and the school's Cappies show is April 30. They've been rehearsing since February and are striving to make it as authentic as possible.
"I brought in a rabbi to talk to our cast about [Jewish] traditions and things they'd do in their daily routine," said Assistant Director Emily Nice, also in charge of research. "We learned what they'd do before eating and drinking, how the wedding scene would go and how they'd pray, to make sure it was all accurate. And we've had to learn pronunciations foreign to most of us."
But things have progressed well and, she said, "We've become like a little village, ourselves. We've emphasized the sense of family that's so important in this play, and that's why it's got universal appeal and should resonate with the audience."
Senior Piper Hillman is both choreographer and set designer. She's pleased when all the actors learn the dance numbers "really well so they look good." She especially likes seeing them perform the song, "L'Chaim," because "it has the most unusual and interesting moves."
The sets include a street in Anatevka with shops, a town square and houses, plus the interior of Tevye's house and an inn. Hillman said it was difficult nailing all the old wood to the flats "because it was falling apart," but she's liked the wood's authenticity. She also "painted the floor blue around the edges for color and a dreamlike feel. It's artistic, but makes sense." And the sets' many levels, said Hillman, make them "more natural and aesthetically pleasing."
Portraying the lead character and patriarch, Tevye, is senior Eric Fischer. "He's a philosopher and sometimes dreams above what he can attain," said Fischer. "He wants to be a scholar or a rich man, but can't be. He's contemplative of the world around him and is a loving man committed to his faith. Jews are hopeful for the Messiah to come and things to get better, so he's lighthearted. He also loves his family and wants the best for them. He believes that, as long as tradition is maintained, the quilt of his town will remain complete."
Fischer's delighted with his role and believes he has the same energy and curiosity about life as Tevye. Hardest, he said, is "showing the audience how conflicted he is when he realizes he's made wrong decisions." But Fischer's happy Tevye's such a fun guy. "He's always making jokes, and it's fun to be a little crazy with him on stage."
His favorite song is "If I Were a Rich Man" because it shows Tevye at his most energetic. He also likes "Tradition" because it shows how proud Tevye is of his town. He's pleased with the show's balance between happiness and an awareness of suffering. "The background of intense poverty and oppression makes this show's humor even that much more fun," he said.
As Yente, senior Sarah Russell is "a typical, Jewish grandmother. She overreacts and loves to feed off the guilt of others. She complains, but is really happy being a matchmaker and the town gossip. She's my favorite character in my favorite show, so it was an honor to be cast as her."
"Coming from a Jewish family and growing up with the music, I really feel like I'm playing my own grandmother, who's a lot like Yente," said Russell. "She knows everyone in her town and is interested in their lives." Russell's favorite song is "Sabbath Prayer" because of its harmony and because "it's really heartfelt and speaks to everyone who cares about family and religion. The Sabbath prayer is about blessing the family and keeping loved ones healthy and safe."
She says the audience will appreciate Director Chip Rome's interpretation of the show as "something different from the movie and completely new. It's what makes our musicals here more professional and unique."
Senior Josh Berrent plays Lazar Wolf, the butcher. Tevye promised him that he could marry his eldest daughter, Tzeitel, but she refuses because she loves someone else. "His wife died and he's an old man," said Berrent. "Now he's lost and drowns himself with alcohol. It's an interesting role and I get to create his complicated background."
However, Berrent must wear a full beard and, he said, "It's hard to talk because it gets stuck in your teeth." But he likes Wolf's "big, emotional change from happy to miserable, which makes him more diverse and shows his true colors."
Portraying Tzeitel is junior Madison Auch. "She's not a rebel, but she's not afraid to stand up for what she needs to be happy," said Auch. "Her parents want her to marry Lazar Wolf, who's wealthy and can give her security, but she loves Motel, a poor tailor. So it's bold when she tells her father she wants to marry Motel. It's unheard of for the daughter to choose who'll she'll marry."
She said the cast bonded offstage so they could bond as a family on stage, and she especially likes the song, "Chavaleh," sung by Tevye as his third daughter, Chava, heads to Siberia with the man she loves. "It's a bittersweet lullaby and all three daughters dance in the background," said Auch. "It's a touching moment and shows how much this father loves his daughters."
Senior Daniel Chung plays Motel. "He's nerdy and in love with his childhood crush," said Chung. "He has the potential of having courage and asserting himself, and he eventually breaks out of his comfort zone and confronts Tevye over Tzeitel." Hardest, said Chung, are "the movements in between the lines – the everyday things Motel does. You really have to 'live' as the character when the spotlight's not on you."
But he loves this role and Motel's quirks, "like when his voice cracks." He also likes the melody and chord progressions of the Russian solo within "L'Chaim." He says the audience will appreciate how realistic the play is and the town's sense of community. "Because there are lots of minorities in Fairfax County, the audience will be able to relate to the story," said Chung. "Young people are always changing and having differences with their parents, but they still love each other."
Director Rome says the high-school audience will be hooked by the love stories, and adults will be drawn to "the life-cycle traumas of watching your children grow up and away. Yet, funny and sweet as this is, it's in a very serious context. Bigotry and anti-Semitism are still with us, and the proof is how popular the show has been across the globe, translated into many languages. It's a Jewish story, but also a very human story."