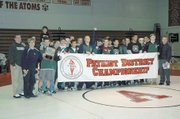 South County's Andy Jimmo has a motto. Paraphrased, it says, essentially, that growth can only come from discomfort. Plenty of discomfort is available to go around as Jimmo has stepped down as the Stallions' wrestling coach, a decision announced by South County on Friday, April 24.
"It wasn't a very easy decision," said Jimmo, who will continue to serve as a physical education teacher at the school. "There's never a good time to step down."
Jimmo learned after the 2008-09 season that he was accepted into George Mason University's master's degree program for education leadership. He also had an inherent desire to spend more time with his two young daughters.
With those factors at play, Jimmo talked things over with South County's director of student activities, Mike Pflugrath, during a standard, end-of-season meeting back in March. Pflugrath asked Jimmo to think about it, but the first Monday back after spring back, April 13, the resignation was official.
"Becoming an administrator is always something that I've wanted to do," Jimmo said. "So I felt like I needed to concentrate on [school] along with spending some time with my family."
After opening South County as its wrestling coach during the 2005-06 season, Jimmo became notorious for his innovative training methods, with the Stallion grapplers spending considerable time flipping truck tires, carrying sandbags and smashing bricks with sledgehammers.
The results paid off with the school's first-ever Patriot District title this past February when the Stallions edged out Hayfield, 222-145.5. The following week, South County finished third in regional competition.
"He's the heart and soul, and he created the program from scratch," Pflugrath said. "He's the father of South County wrestling. He's gonna be sorely missed."
Pflugrath plans to advertise the position through the Fairfax County Public Schools' job advertising system for coaches by Wednesday, May 6 and hopes to start interviewing candidates by Wednesday, May 20.