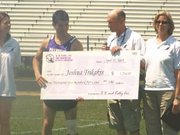 Chantilly High School did not host The Cassel's XBC Track Experience this past Saturday. No, it hosted <i>The</i> Cassel's XBC Track Experience. "Boone" would've wanted it that way.
For the fourth straight year, the XBC meet was held in honor of 2005 Chantilly graduate X.B. Cox IV, a 12-season cross-country and track and field athlete who succumbed to leukemia on Sept. 22, 2006.
When Cox -- the 'X.B.' is a passed-down set of initials that do not stand for anything, so the family, aware of the difficulty on a youngster of explaining that, applied the nickname -- was in high school, he specialized in the 800-meter run and also the 1,600.
With those running credentials, Cox was a lock for Chantilly's 4x800 relay team, which also included Mark Hubbard, Doug Palmer and Brad Siragusa. After finishing sixth at the 2006 Northern Region outdoor track and field championships, the foursome wasn't exactly of record-setting caliber — at least on the track and not the stand-up comedy circuit, anyway.
"One thing Boone had was a huge ego," said Cox's father, X.B. Cox III. "They decided that we're gonna be <i>the</i> 4x800. They started wearing T-shirts and made it a big deal. Everyone knew they were just blowing smoke, but they went pretty far with it."
A 4.0 student, Cox IV attended the University of Virginia that fall but in January was diagnosed with leukemia. A few months later, the meet was started as a way to honor Cox and raise awareness. And despite the fact that he was undergoing chemotherapy at the time, Cox attended the inaugural event. He would've graduated from Virginia this spring.
<b>AS A COACH</b> in the Northern Region, Chantilly's Matt Gilchrist has seen a lot of well-put-on events and been in a lot of hyper-competitive atmospheres. The XBC, though, falls under a different category.
Gilchrist started the meet as a way to pay tribute to someone that everyone at Chantilly thought would be a survivor. Now, it's a yearly way for the coach and others to honor someone that was a part of one of the athletic community's most close-knit groups.
"For me and all the other coaches, it's definitely very personal," Gilchrist said. "We call it the XBC track experience because we really want it to be an excellent experience for the athletes, coaches and spectators. It makes us very, very detail-oriented because, in tribute to him, we want to do it right."
The meet also has a tactical purpose. Scheduled during the same weekend as Penn Relays, the XBC serves a more team-oriented purpose by providing a competitive atmosphere for those who aren't yet in peak form, as Penn Relays often require athletes to maximize endurance or strength ahead of schedule.
But no matter how much one might try to focus on the tangible effects of the XBC, there's one figure that remains central in everyone's mind.
"It's a very special day," Gilchrist said. "It amazes me every year of how well it goes off. We have an amazing group of parents and a great staff set up. They really work their butts off, and when I start thinking about Boone, it hits home."
<b>KELLY COX</b> and her husband attend the meet every year to present one Chantilly senior with a $1,250 college scholarship -- out of the couple's own pocket. They first, after their son's death, contacted a few foundations for support but didn't find a suitor, namely because they wanted input from the team; those they spoke with didn't.
The scholarship candidates are chosen by team members at Chantilly, with a set of qualifications that best reflect their son's personality as the only guidelines: The candidate must be a senior with at least seven seasons of work in the cross-country or track and field programs and one who has outstanding personal character, an understanding of teamwork and a sense of humor.
"We're giving it to those folks who exhibit the characteristics that we feel that Boone did," Kelly Cox said, "And we felt that instead of it just being awarded by a coach that the other track athletes would be better aware of who meets those qualifications."
After team members choose their top three candidates, the coaching staff makes the final decision, with the Cox family left in the dark, really, until handing over an oversized check. This year's winner, Josh Trikakis, never met Boone Cox, but the XBC's significance is not lost on the George Mason-bound winner.
"This means a lot to everybody," Trikakis said, minutes before finishing first in the pole vault. "Even though he graduated a year before all of us seniors, all the people that come back knew him very well and its means a lot to us because we respect all those that graduated ahead of us."
"One of the things that you always find with people who have lost children is that one of their greatest fears is that their children will be forgotten," Cox III said. "It's very satisfying to know that people don't forget your child, especially because this is a program that meant a lot to him."