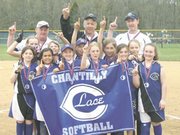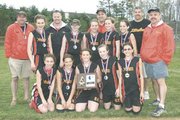 <b>Mark Your Calendar</b>
Disappointed at the size of crowds for high school soccer in Northern Virginia, Bill Casey decided to do something about it. So Casey, a Chantilly parent, conducted a research study in conjunction with Chantilly High School students to determine why more fans go and watch the Americanized version of football than the European one. Casey found that he could increase attendance at Chantilly girls' soccer games by focusing on giveaways and community involvement. And on May 6, Chantilly will host Centreville for Youth League and Community Night. The girls' game kicks things off at 5:30 p.m., followed by the boys' game at 7. Youth-league players wearing their jerseys will be admitted for free, with teams encouraged to make the event an annual group outing. There will also be $1 ice cream from Milwaukee's Frozen Custard, youth-league players as ball kids and a 12-minute exhibition contest during intermission.
<b>Spring Fling Champions</b>
The Chantilly Lace U-10 travel softball team went undefeated in its first tournament of the 2009 spring season. The Lace closed out the tournament with a dramatic 5-4 win in the bottom of the fifth inning as time expired over the Fauquier Fusion. The USSSA Spring Fling Tournament was held at the Potomac Lakes Sportsplex over the weekend of April 17-19.
<b>Chantilly Tennis Camp</b>
The Chantilly High School Boosters will sponsor a tennis camp this summer. There will be two one-week sessions offered from July 13-17 and July 20-24. The camp will be directed by Chargers tennis coach Doug Kegerreis. The Chantilly girls' tennis program was back-to-back Northern Region champions and state semifinalists in 2005 and 2006. Kegerreis also coached Chantilly tennis star Thomas Nolan to the state singles championship in 2005. Proceeds from the camp will benefit the boys' and girls' tennis programs at Chantilly High School. To request a brochure or for more information, contact coach Kegerreis at Racks@aol.com or 703-932-8927.
<b>Chantilly Basketball Camp</b>
The Chantilly boys' basketball program will hold four consecutive weeks of basketball camps starting July 6 for boys ages 8 through 15. Cost is $150 and the sessions will be held at Chantilly High School. For more information, call head coach Jim Smith at 703-222-6306 or visit the Chantilly athletics Web site at www.chantillysports.org.
<b>Nominations Needed</b>
The Westfield Athletic Booster Club (WABC) is currently accepting nominations for the 2009-2010 Executive Board. The following positions are open for nomination: president, vice president, treasurer, recording secretary and correspondence secretary. The election will be held at the board meeting on Monday, May 4 at 7 p.m. To make a nomination, contact John Cleveland at gorebels1@verizon.net or 703-816-9440, Karen Duncan at wkduncan@aol.com or 703-222-4382 or Lory Sasek at Lorsas@aol.com or 703-222-6080.
<b>Westfield Crew Enjoys Best Day Ever</b>
The Westfield crew team reached another milestone this past Saturday by having 10 boats -- the most ever -- competing against its most challenging competition of the season. Nineteen schools participated in the Al Urquia Regatta on the Occoquan Reservoir, and, when it was done, every one of Westfield's boats had finished in the top four places of their respective events. Of the five men's boats, the top varsity boat finished second. Meanwhile, first-place finishes were recorded by the second and third boats, and fourth-place finishes were produced by the fourth and fifth boats. On the women's side, the top varsity boat finished in third place in a close race; the second through fifth boats took fourth, second, second and third places, respectively. Over the next two Saturdays, each of these boats will compete in state championship regattas with the fourth and fifth boats competing this Saturday in the Ted Phoenix Lower Boat Championship Regatta at Sandy Run Regional Park on the Occoquan with the upper boats competing at the same location on the following Saturday, May 9, in the Virginia Scholastic Rowing Association Championship Regatta to determine which boats qualify to row at the Scholastic Rowing Association of America Regatta at Mercer Lake in Princeton, N.J. on May 22-23.
<b>Kearney, Scanlon Commit</b>
Chris Kearney and Peter Scanlon, two seniors on the Westfield boys' basketball team, recently made college commitments. Kearney, a post player who averaged 19.9 points and 11.6 rebounds per game, will play for Catholic University, while Scanlon, a guard who averaged 11.4 points and 4.3 rebounds per contest, will suit up for Johns Hopkins University.
<b>Spees To Head West</b>
Late last week, Westfield senior Sammy Spees made her collegiate decision final, choosing to play at Division-I Loyola Marymount University in Los Angeles. According to head coach Jim Bour, Spees will try to compete for playing time at libero. A first team All-Concorde District, All-Northern Region and All-State selection, Spees led Westfield to the Virginia AAA state title match -- a 3-1 loss to Albemarle -- by averaging 4.35 kills per game (439 total) and totaling 314 digs.
<b>Westfield Basketball Camp</b>
The Westfield boys' basketball program will hold a series of four camps throughout the end of June and all of July. The first four-day session runs from June 29 through July 3; the second runs from July 13-17; the third from July 20-24; the fourth from July 27-31. For more information, contact Doug Ewell at 703-488-6406 or via email at douglas.ewell@fcps.edu.
<b>Basketball Coaches Needed</b>
Southwestern Youth Association basketball entered 20 boys' and girls' teams, from fifth through eighth grade, in the Fairfax County Youth Basketball League last winter. The organization is actively seeking coaches for the upcoming year, with interviews beginning May 1. Applications are available online at www.syasports.org.