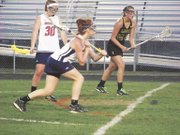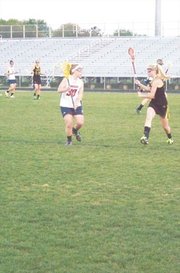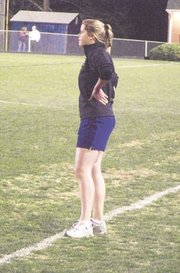 Without the success that Rachel Obregon is used to when trying to score off of a free-position shot, the W.T. Woodson junior went to the source. Before her girls' lacrosse team's game Friday, April 24 against Langley, Obregon tapped Carolyn Fridley and Carrie Robinson, the Cavaliers' two goalkeepers, for advice.
By doing so, Obregon hoped she could better understand some of the things that Fridley and Robinson see and what, more specifically, drives them crazy. The goalkeepers told Obregon to bring her stick closer to her body, rather than keeping it wide. That would create a tougher shot to defend.
Turns out, Fridley and Robinson had a pretty good plan, as Obregon later scored four times on free-position shots against Langley and W.T. Woodson claimed a 15-14 win, erasing a three-goal deficit in the final 15 minutes. With the victory, the Cavaliers clinched the regular-season Liberty District title.
"A few games ago, we weren't clicking as a team," said Obregon, who finished with nine markers against the Saxons. "Then last game [a 16-6 win over Stone Bridge] we finally got a little bit of a 'click' and this game we decided that we'd completely click together. I think we came out the strongest we've ever come out."
"I think we've realized that the postseason starts next week and we need to get into it," said senior midfielder Becca Geist, the reigning Northern Region Defensive Player of the Year. "We all care about each other and it showed."
Under first-year coach Meaghan O'Leary, W.T. Woodson started its season with a 20-14 loss to Robinson. From there, the Cavaliers rattled off four consecutive district wins. Still, that all-out, perfect performance had not arrived despite the fact that W.T. Woodson scored an average of 17.3 goals per game over those victories.
<b>WHETHER IT</b> was the senior night festivities, with Becca Geist offering hugs to essentially everyone besides the officials, or Obregon's goal-scoring spree, something happened against Langley, something the Cavaliers hope would carry them through the upcoming district tournament.
"This was the first game where we've clicked, and I think it's great that we have," said O'Leary, whose team improved to 7-2 overall and a perfect 7-0 within the Liberty with a 16-3 win over Jefferson this past Saturday. "Right now, we're clicking going into the postseason, and that's going to be pretty exciting."
While Obregon's light-it-up night against Langley might make handing out some sort of game ball rather simple for O'Leary, the reality is that the majority of W.T. Woodson's offense this season has come from many different sources.
Six W.T. Woodson players have scored 11 or more goals this spring, with Obregon tallying a team-best 41. Meanwhile, King leads the Cavaliers with her 23 assists and has also chipped in with 32 goals.
Against Langley, three different players scored. In addition to Obregon's 10-point night -- she also added an assist -- Geist had a goal and an assist; senior Carrie Pritchard (20 goals) scored five times and classmate Lauren King had three assists.
"All of our attackers can score," O'Leary said. "Rachel obviously took over [against Langley], but we have other ones."
Not that any credit should be taken away from Obregon.
"She can feed and score from any position, but [Friday] was her game," O'Leary said. "It was her time to shine and she was just ripping it. That was her potential out there. That's how good she can play, and I think this was her best game all season."