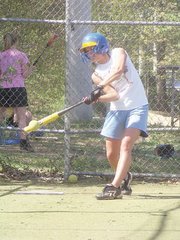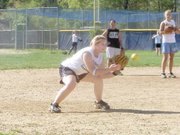 Everybody can pitch. Attend a baseball or softball practice one spring afternoon and chances are an outfielder somewhere waits undiscovered with a looping curveball or there's a catcher with 90-mile-per-hour heat -- if only that darn coach would realize it.
Intra-squad games often become the perfect forum for those wannabes to falter, to issue three straight walks and suddenly the joke isn't so funny anymore. But what happens when that wannabe pitcher actually gets a chance to throw in a real game?
Ask Marcy Bowdren, the Robinson softball team's first-year pitcher, who, as it turns out, was anything but an imposter. With the graduation of pitcher Erin Henning from last year's 16-10 team, Robinson was looking for someone to step into the circle.
Bowdren, a third baseman last spring, became coach Barry Gorodnick's lead candidate, mainly because of her strong arm and overall athleticism, not that her teammates were entirely convinced.
"She always said she could pitch, but nobody ever believed her. It was always a big joke," said senior Christine Cunningham, who, in addition to playing shortstop also serves as Bowdren's catcher. "But actually she has really pulled through for the team because we needed a pitcher."
Before the Rams' 2-1 loss to Fairfax on Tuesday night, Bowdren was 6-2 on the season with four saves. Her 1.58 ERA has been lower than expected and her strikeout total (70) has been a pleasant surprise, too.
Two years removed from capturing the 2007 Northern Region title, it wasn't all that unfathomable back in February that this spring would become a rebuilding one for the Rams.
The losses of shortstop Ali Marco, Henning and center fielder Taryn Cutrona all stung, and Gorodnick, in his 20th season on Robinson's bench, wasn't so sure what to expect early on.
<b>ROBINSON</b> started out this season red-hot, recording wins over West Potomac, Centreville and Herndon. In all, the team was victorious in 10 of its first 11 games, with the only loss coming to last year's region champion, Westfield.
Following a spring break trip to Myrtle Beach, S.C., though, Robinson hit a three-game skid with losses to Oakton, Centreville and Westfield. A win over Herndon on Friday, April 24 helped to shake those defeats, but the Rams (11-6) will look to put memories of the Fairfax loss behind them by hosting Chantilly on Friday for Senior Night.
"We had a pretty good start, but now it just seems like we've been tapering a little bit," Gorodnick said at practice on Monday afternoon. "I'd like to see us get back to that level of consistency where we were at the beginning of the year."
When searching for consistency, Gorodnick doesn't need to look much further than his two battery mates on most nights, with Cunningham hitting .327 from the No. 3 slot and Bowdren hitting a head-turning .565 from her leadoff position.
The formula is simple: Bowdren, reaching base 66 percent of the time, gets on. Then, either a stolen base -- Bowdren has 16 -- or a sacrifice moves her into scoring position. A Cunningham hit generally follows, as evidenced by Bowdren's total of 25 runs scored and Cunningham's 12 RBIs.
But the offensive part of the game has practically become old hat for Bowdren, who hit .511 with five triples and four home runs last spring. It's the defensive game that she has been refining, both with her fielding work at third base and with the grips and control of her fastball, curveball, changeup and screwball.
"I've been pitching in the back yard with my dad for years, and I just thought I'd try it," Bowdren said. "It's fun. There's more pressure, but you have more control. You get put on the spot, and I'm not really used to that."