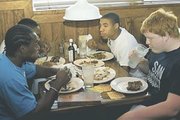 <b>West Potomac Eats, Fundraises</b>
As part of its ongoing quest to secure funds for Bermuda grass for its stadium field, the West Potomac athletic department held a lunch sponsored by Outback Steakhouse to honor its varsity captains from all sports this past Saturday. Outback Steakhouse donated 200 meals at $20 apiece to the Fort Hunt Sportsmen's Club, with all proceeds being turned over to the West Potomac booster club for the field replacement project.
<b>MV Baseball Wins Five Straight</b>
The Mount Vernon baseball team is right in the thick of the National District race with a pivotal game against conference leader and defending champion Yorktown on Wednesday, after the Gazette's deadline.
After beginning the year 4-6, the Majors have reeled off five-straight victories in the past two weeks, including a nail biting 14-13 victory over Washington-Lee on April 17. With five games remaining before the postseason begins, Mount Vernon has as good a shot as any to reach the regional tournament.
<b>Conner Wins Pole Vault</b>
While much of the track world was focused on Philadelphia and the prestigious Penn Relays, West Potomac senior Meghan Connor had her sights set closer to home. Competing in last weekend's Cassels XBC Track Experience in Chantilly, Connor jumped nine feet, six inches to win the pole vault competition.
Other notable performers were senior Alex Triplett, who finished fourth in the 400-meter dash. On the boys' side, senior Peter Stebbins and Ben Hammond finished back-to-back, in third and fourth place, respectively in the 800-meter run. Sophomore Khoki Bernier took third place in the 1600-meter run. As a team, the boys' came in ninth place overall, while the girls' placed 13th in the 22-team field.