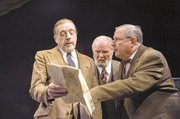 Three local actors, Ralph Cosham, John Dow and Michael Tolaydo, work wonders as they perform a short and slight comedy of a trio of aging residents in an old soldiers home at MetroStage on North Royal Street.
"Heroes," translated from Gérald Sibleyras' original French into English by Tom Stoppard, is a play about French Army veterans of World War One that gives these three veterans of local stages all the bright pithy lines they need to cast a wonderful spell over an audience.
There's Ralph Cosham as an old soldier whose dreams of escape from the home, if only so far as to the poplars he can see from the terrace, form the slender plot of this collegiality confection.
John Dow is a vet with a scrap of shrapnel still in his head, causing him to lose consciousness at various times, only to awake repeating the same line each time: "Captain, We'll take them from the rear." Just what that means only becomes clear half way through the play.
Michael Tolaydo, who was so memorably gentle here at MetroStage in "Sea Marks" a number of years ago, returns to play a former soldier who doesn't let his need for a cane keep him from his daily constitutional.
It was Tolaydo who discovered the script and brought it to the attention of MetroStage's Producing Artistic Director, Carolyn Griffin. It wasn't the first time he'd brought in a real charmer of a play. He was the one who discovered "Sea Marks" as well. So far, with two plays discovered, he's batting a thousand.
The project is under the direction of John Vreeke, himself a veteran of many wonderful productions in our region, including both "For The Pleasure Of Seeing Her Again" and "One Good Marriage" at MetroStage. He allows his cast the luxury of a leisurely pace for the piece, giving the audience a chance to savor particularly satisfying moments without letting the play appear to drag.
Colin K. Bills, whose many design credits in our region has included a number of productions where he designed both set and lighting, again handles both aspects here, providing a single locale set of the terrace of the old soldier's home which give the actors distinct areas in which to work (just watch Tolyado purposeful cane-assisted stride across the back walkway or Dow droop over the park bench in one of his character's spells).
The simple set, gentle lighting, appropriate chamber-music interludes between scenes and the spot-on costumes provided by Ivania Stack combine to put the attention precisely where it should be: on the performance of the three actors. They deliver gentle, affectionate performances that charm the audience for just under an hour and a half that make this lovely one-act play a delight.
<i>Brad Hathaway reviews theater in Virginia, Washington and Maryland as well as Broadway, and edits Potomac Stages, www.PotomacStages.com. He can be reached at Brad@PotomacStages.com.</i>