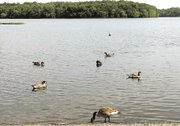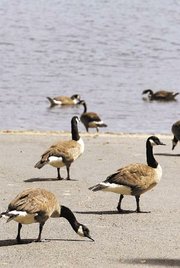 Burke Lake Park
7315 Ox Road in Fairfax Station
Its 888 acres feature a 218-acre lake with fishing, boating, rowboat rental, camping, a miniature train, a carousel, outdoor volleyball courts, an 18-hole par 3 golf course, an ice cream parlor, picnic areas with grills, a mini golf course and playgrounds as well as an 18-hole disc golf course. The new fishing pier is accessible to persons with disabilities. Privately owned boats with electric motors are permitted on the lake. No gasoline-powered watercraft or sailboats are permitted. Swimming is prohibited. Nominal fees are required for boat rentals, camping, carousel, train and other activities. Call 703-323-6601.
Fountainhead Regional Park
10875 Hampton Road, Fairfax Station
The observation deck of the Marina Building at Fountainhead commands a view of the widest point of the Occoquan Reservoir. Law requires fishing licenses for fishermen 16 or older. Motors up to 10 horsepower are permitted. State and local law prohibits alcoholic beverages and firearms. No swimming or water skiing. Features at the park include fishing, a boat ramp, canoe and electric motor rentals, mountain bike trail and a separate horse trail (call 703-250-2473 for trail conditions), access to the 17-mile Bull Run-Occoquan Trail (no bikes), rental picnic shelter, picnic tables and grills, miniature golf and nature trails. Sandwiches, snacks, beverages, bait and tackle, fishing licenses, scale, deck and rest rooms are available at the Marina Building. Fountainhead Park is open daily from 6 a.m.-dusk. Call 703-250-9124.
Hemlock Overlook Park
13220 Yates Ford Road, Clifton
Hemlock Overlook Park provides one of the most exhilarating and rewarding experiences. It is a gigantic, 5,000-acre park, full of mini-quests and physical challenges, not to mention a zip wire across a small valley. The idea is to promote team work by relying on your team members to complete the tasks. It is ideal for office groups, friends or schools. For more information, including directions, log on to www.hemlockoverlook.org. Call 703-993-4354.
Laurel Hill Golf Club
8700 Laurel Crest Drive, Lorton
This 18-hole golf course is located on land formerly occupied by the D.C. Department of Corrections facility in Lorton and is one of the newest golf courses in Northern Virginia. The course's clubhouse, scheduled to open in summer 2006 is 9,400 square feet and houses a formal banquet room, a pro shop, a bistro area and a dining room/conference room for meetings or private parties. Call 703-493-8849.
Mason Neck State Park
7301 High Point Road, Lorton
Located on the peninsula formed by Pohick Bay, Belmont Bay and the Potomac River, Mason Neck State Park is the location of an active heron rookery and boasts several hundred acres of hardwood forests as well as wetlands. Park activities include brackish and fresh water fishing, kayak and canoe rentals, birdwatching, night hikes, butterfly gardens, trails and a picnicking shelter. Call 703-339-2380.
Occoquan Regional Park
9751 Ox Road, Lorton
Park is located on the Occoquan River diagonally across from the Town of Occoquan. Over 400 acres of recreational space with a an added touch of historical sites. 703-690-2121.
Pohick Bay Regional Park
6501 Pohick Bay Drive, Lorton
The park is located on the Mason Neck peninsula in Fairfax County. A variety of wildlife lives on the property, including the bald eagle. Features of the park include an 18-hole golf course, cabins, family campground, outdoor swimming pool, sailboat, pedalboat, canoe and sea kayak rentals, fishing and miniature and Frisbee golf courses. Call 703-339-6104.
Sandy Run Regional Park
10450 Van Thompson Road, Fairfax Station
Sandy Run offers a facility for team training and competition for Olympic, college, high school and club crew athletes. Park features include: site of national competitions for college and high school rowing crews, spectator seating for 500, 2,000-meter racecourse and three boathouses. Call 703-690-4392.
Town of Clifton Park
7145 Main St., Clifton
Clifton Park plays host to the annual KidFest festival. Professional children's entertainers perform throughout the day, and festivities include music, moonbounces, children's crafts and activities, plus vendors' booths and a silent auction for adults.
More like this story