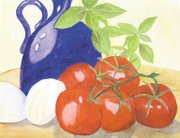 There wasn't a food fight at Katie's Coffee, but a lot of stuff you can eat is all over the walls. And that's exactly what the artists of Great Falls intended.
Each month, the coffee house at 760 Walker Road features the work of local artists in changing exhibitions that highlight home-grown art talent. The subject of the August show is "Food." So while you are having a cup of java or eating Irish bangers at Katie's (part of the Old Brogue Irish Pub), you'll also be looking at fabric cupcakes, a pottery plate of pasta, cherry pie jewelry, even a bottle of wine in the snow—all artfully mounted on the wall.
In all, there are 23 pieces in the exhibition. "The subject was 'food,' and the only constraint was that each piece could not exceed 154 square inches," says Walt Lawrence, a photographer who is represented in the show and helped to hang it. "How the various artists interpreted that illustrates how creatively they stretched the meaning of the subject."
Katie's Coffee mounts the monthly shows in partnership with Great Falls Studios, a network of 88 artists who live or work in Great Falls. Most months, the exhibit features the work of a single artist. Every August, the show is themed and highlights many artists—from painters to photographers, potters to jewelry designers. All the works are for sale.
Great Falls Studios also partners with the Seneca Hill Animal Hospital, Resort & Spa, which makes the walls of its facility available to Great Falls artists as well. Exhibits there usually feature animals, nature, landscapes and related subjects. The shows change every three months. An exhibit of the work of painters Jennifer Duncan and Naz Akbar, as well as photographer Dee Leggett, is available for viewing through the end of August. The facility is located at 11415 Georgetown Pike.
Great Falls Studios was formed in 2003 and has grown rapidly since. It holds various art shows, festivals and sales during the year. Its signature event is the annual Great Falls Art Studios Tour which this year will be held on October 17 and 18. Largely because of the Tour, in which visitors meet artists in their home studios on the back roads of the village, Great Falls has become recognized as a leading center for the arts in northern Virginia. Great Falls Studios works together with the non-profit Great Falls Foundation for the Arts to help make Great Falls a more artful place.